Pixel8 is a data recovery software company. They offer recovery service where you can either send your driver to recover files, or you can use their premium software to recover deleted files from your computer. Their premium software — Pixel8 Seagate Premium Recovery is available for free for a limited period. So if you always wanted to own a data recovery software but did not want to pay, then here is your chance to grab Seagate Premium Recovery for free. It works for drives of all manufacturers.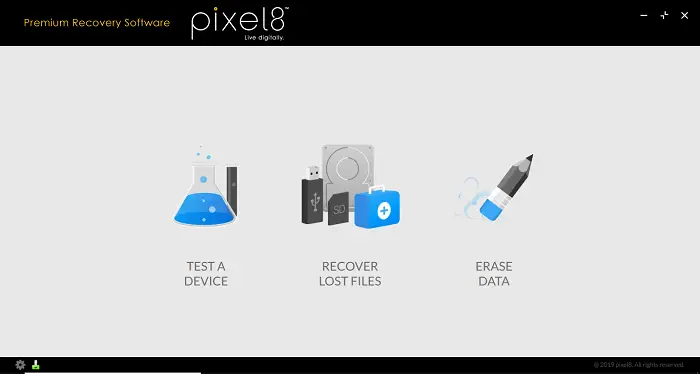 Pixel8 Seagate Premium Recovery Software
The first and foremost thing you should know is that even though Seagate is in its product name, it works with any brand of drive and most storage device types. So if your device can be turned on and can detect media, you can use the software and get data back. If you have lost files because of corruption, file deletion, accidental format, then the software will be able to recover data. The best part is that you can install on up to five computers with the same key.
How to download it for free?
Go to the official product page
Scroll to find where it's listed as "Premium Software $0."
The software is available for both macOS and Windows. Choose any of them, and click on Add to Cart button
Next checkout, and you will have to share your address, email id, and phone number.
It is compulsory as they will send you the activation key over email.
Post-registration, you should get an email with an activation key.
Download the software and activate it using Order ID, Email id, and the activation key.

Pixel8 Seagate Premium Recovery Software Features
There are two significant features. One lets you recover lost files, while the other allows you to erase data so no one else can recover it. Along with this, you also have the option to test a device. You should use this option when your device or volume is either grayed out or not supported. It happens when the partition is encrypted using software like BitLocker or anything similar. In that case, you will have to turn off encryption to allow the software to scan and recover files.
Recover Data
Just like any other software, it uses the Master File Table to find out files that have been deleted, but since they have not been overwritten yet, it can recover. In simple words, whenever you delete a file, it is marked for deletion, and only removed when a new file overwrites that space. Until then, any software can recover data.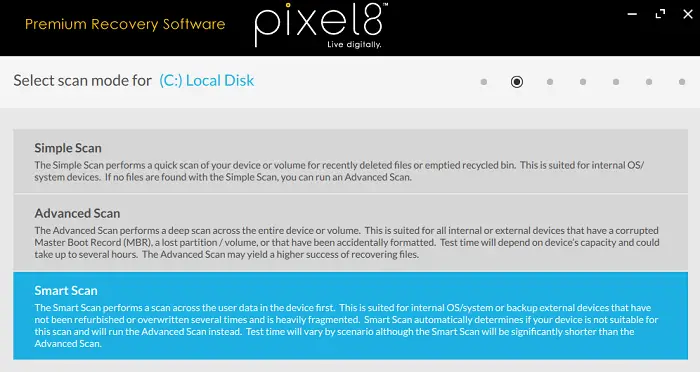 Click on recover data, select the drive, and then choose between Simple, Advanced, and Smart Scan. While the simple scan looks for recently deleted files, advanced scan scans files on internal storage that either have corrupt MBR or lost a partition or volume. Smart scan, on the other hand, scans for user data in the devices. It supports recovery from the file system, which includes NTFS/FAT16/FAT32/exFAT or HFS/HFS+/APFS.
It can recover the following file format— bmp, gi, svg, psd, eps, emf, jpg, png, pdf, tiff, ppt, pptx, doc, docx, xls, xlsx, rtf, outlook, txt, mpp, chm, vsd, mp3, wma, wav, mp4, mov, wmv, 3gp, swf, asf, avi, flv, and fla. You get to see a preview if possible.
Erase Data from Storage Device
It uses a reverse technique to make sure data becomes hard to find by any third-party software. It looks for deleted files and overwrites them with random data. The same happens when you erase a device. Not only the master file table is removed, but it is also overwritten with random data multiple times. So even a software recovers data, it is of no value. It comes in handy when you are selling an old HDD or returning it.
Overall it's a great opportunity if you want to grab a premium file recovery and eraser software. You never know when you would need recovery software, so having one of these in the stock is always handy. Download Pixel8 Seagate Premium Recovery Software for free now.