Many emails have a short life span. After they have served the purpose well (reading), they are pushed down in the Inbox automatically. This clutters up your Inbox, calling for a better archiving solution. Here's where many third party tools role like MailStore Home for Windows 10/8/7 may be able to help you.
MailStore Home review
MailStore Home is a free software that lets you archive emails from any source and lets you seamlessly search between them. The tool acts as a central repository of all your emails from all your email accounts and makes them searchable under a single window. MailStore can be installed on a computer or on a USB drive as a portable application, which can be then accessed on any computer. The tool is really useful and comes handy when you have a lot of email accounts.
Email archiving software
MailStore Home for Windows is a better archiving solution for your emails scattered around the wide world of web. The tool acts as a central repository of all your emails from all your email accounts and makes them searchable under a single window.
Using MailStore Home
The Start Page gives you a quick glance of some important information such as the number of archived emails, total size, and available disk space and also provides you with links to various actions. You can start archiving your emails by hitting the relevant button. You can archive emails from almost any source and some of them are:
Internet mailboxes such as Gmail or Yahoo! Mail
Any POP3 and IMAP mailboxes
Microsoft Outlook 2003, 2007, 2010, 2013, 2016
Windows Mail und Windows Live Mail
Microsoft Exchange Server 2003, 2007, 2010, 2013 and 2016 mailboxes
Microsoft Office 365 (Exchange Online)
Mozilla Thunderbird and SeaMonkey
PST, EML and other files.
Using MailStore Home is dead simple. Here's how to go about it.
For archiving your particular webmail account, you have to enter the email address for that account and hit the 'Start' button.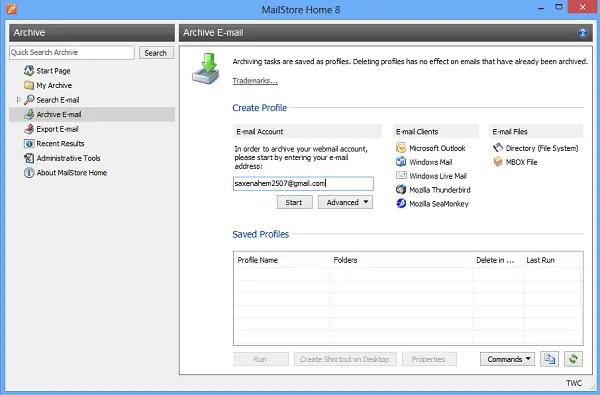 Next, enter the password for the webmail account. MailStore takes some time to detect settings.
Once done, a profile name created under 'Saved Profiles' list becomes visible. Simply double-click the profile to start archiving. By default, MailStore skips archiving 'Trash', 'Spam' and other junk folders.
The program later starts scanning folders and creating archives for single or multiple email accounts of yours. The archival process takes some time, depending on the quantity of email. A 'Progress View' window on your computer screen, indicates the progress of the items processed. Wait until the process gets completed.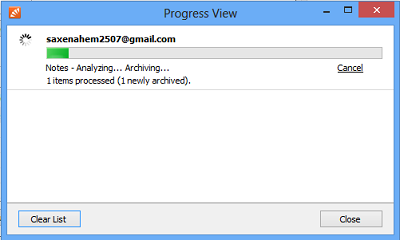 Once done with the archiving job, emails are organized neatly into different folders as shown in the screenshot below. Just click on any folder to find the list of related emails contained in it. You can open them with a click of your mouse, within the email program.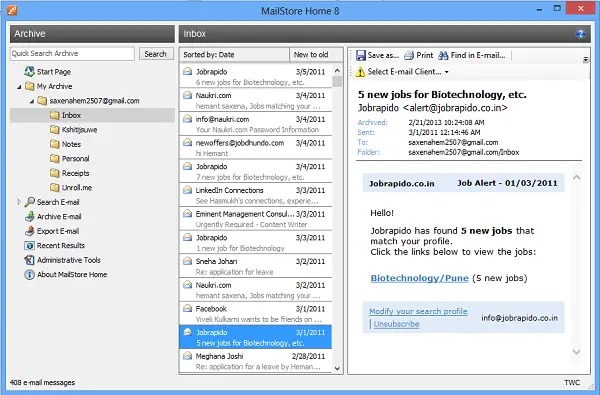 MailStore includes a good search feature. The feature allows you to search for any deeply buried mail within the program. It is also capable of searching all types of attachments. Besides, it has advanced features like reusing saved search queries too.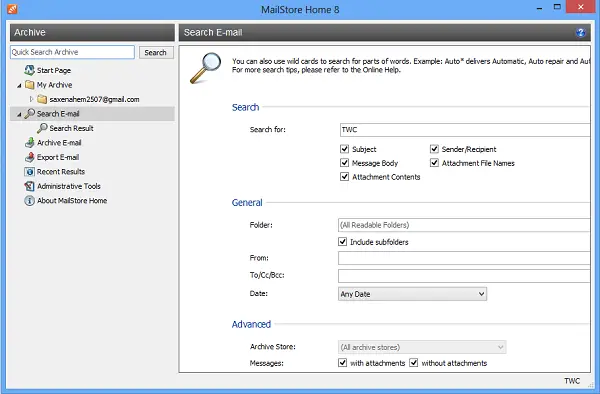 Additionally, if you want, you can define different search parameters here to speed up the searching process. The search results are presented very quickly and a search query is customizable to a large extent. You can search for text in Subject, Message Body, Attachment Contents, Sender/Recipient and Attachment File Names. You can also specify a folder for search and also add from or to email addresses to the search query. The search can also be date adjusted.
Importing and Archiving are good, but the tool also comes with exporting capabilities. You can export archived emails back to various accounts or save them locally on your hard drive. You can export emails to email servers, email clients and save them as e-mail files. You can save them as EML files or Microsoft Outlook MSG Files.
Using this feature you can export an entire folder or individual emails from the archive to installed email clients or a file directory. Just right-click a folder or individual email and select the 'Export to' option.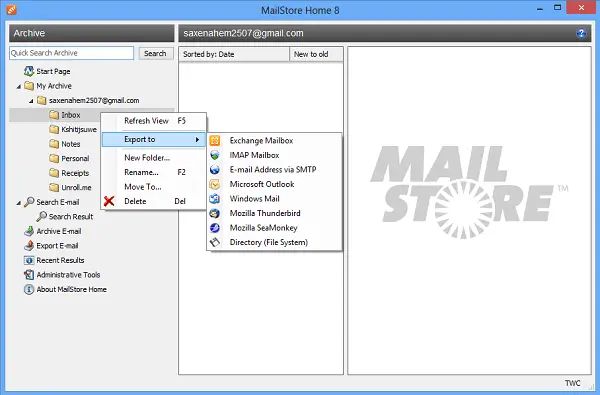 If you are exporting to a file directory, the files will be transferred as EML files. EML files can be read by many applications.
Simply choose a target folder for exporting the files or create a new one and assign it with a suitable name.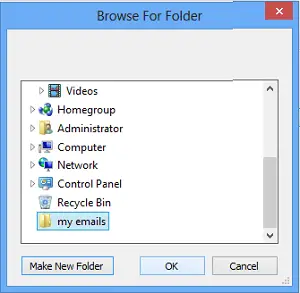 The exporting process begins shortly thereafter.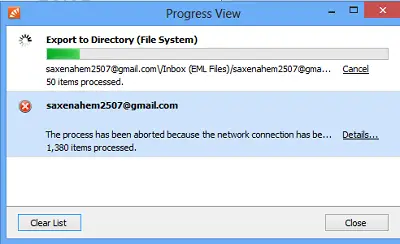 Under administrative tools, you can manage few other settings. The directory where emails are saved can be changed, you can rebuild the search index for faster results and you can free some unused disk space by compacting MailStore's data directory.
If you have liked what you read, go ahead and download it from its homepage. It is completely free to use for non-commercial purposes.