If when you try to exit Chrome browser, you see 'Download is in progress, Exit Chrome anyway' notification, then this post may interest you. You may see this error even when you feel nothing is being downloaded. This usually occurs when there are incomplete or failed downloads.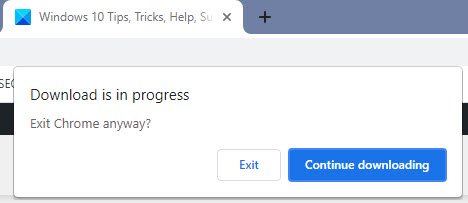 Download is in progress says Chrome – But no download is in progress
If you see the Download is in progress, Exit Chrome anyway in Chrome or Edge browser, do the following:
Visit Chrome Downloads URL here:
chrome://downloads/
Check if you see any incomplete or corrupted or failed downloads. The will be in the .crdownload file format.
You will also see such a file in your Downloads folder.
The file with the extension .CRDOWNLOAD stores the downloaded data temporarily. It is specific to Chromium-based browsers. This file extension indicates that a file hasn't finished downloading yet. Once the download is complete, this file extension is replaced with the file extension of the download.
Now you have two options – You can Resume/Keep the download or Cancel /Discard the download.
Check whether your internet connection is working properly and select Resume if you wish the download to complete. Chrome will automatically resume the download. You can also resume the file download by clicking the Down arrow and then Resume.
If Resume fails, you may select the Cancel option, and the download will get canceled.
You may then Delete the file.
The notification will now not be shown as there will be no pending downloads.
I hope you find this bit of information helpful.
This post offers additional suggestions to fix File Download Errors on the Google Chrome browser.
Read next: Google Chrome browser downloads get stuck at 100%.