Are you looking for free textures for your models where Blender software is concerned? There are several ways to get these free textures, and were going to discuss them in this article today. Blender is a free and open-source 3D computer graphics software toolset used for creating animated films, visual effects, art, 3D printed models, motion graphics, interactive 3D applications, virtual reality, and computer games
Best websites to download free Blender Textures
The information below should guide you in finding some of the best places on the web to download free Blender textures onto your computer for personal or commercial use.
Poly Haven
Architecture Inspirations
Poliigon
AmbientCG
Textures.com
1] Poly Haven
PolyHaven is one of the better websites for free Blende textures primarily because the contents there fall under a CC0 Creative Commons license. This means you have the option to use the free textures in any shape or form without ever having to worry about paying royalties.
From what we have gathered, a lot of the work on the website comes from the Poly Haven team and donations.
Now, we like the fact that the website does not require users to sign up in order to download Blender materials. Simply visit and download as many textures as possible for your particular project.
2] Architecture Inspirations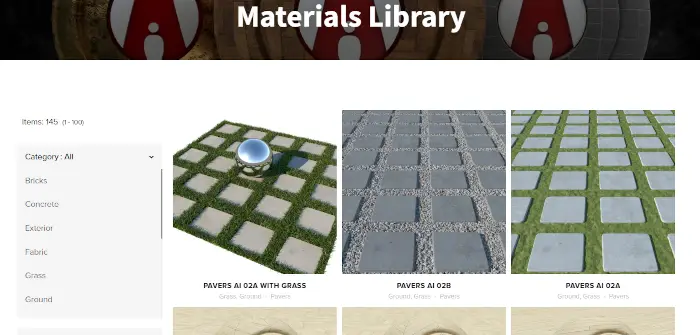 If you are the type of person who models architectural or interior renderings of buildings, then you'll love what Architecture Inspirations has to offer. A lot of materials here are offered in 1K resolution at no cost, and that's wonderful.
Still, bear in mind that this website is not in the business of offering 100 percent free content. Some are placed behind a paywall, but for the time being, you can make use of the free ones.
The website also provides Blender tutorials, so if you're a complete noob, you should not feel disheartened.
3] Poliigon
Another great website you definitely need to look at is Poliigon. This website was created and maintained by Andrew Price, also known as the Blender Guru on YouTube. Everything found on this website was originally made by Andrew and his team of designers.
Now, most of the assets at Poliigon are not freely attainable, but the ones that are, are of high quality.
4] AmbientCG
Similarly, to Poly Haven, the Blender assets on AmbientCG are protected by a CC0 Creative Commons license. As stated before, this will allow folks to download and use any content however they see fit without needing to pay royalties or give attribution.
No doubt this is a wonderful website, and as such, potential users must take great advantage of what it has to offer.
5] Textures.com
Ever heard of Textures.com? It's a great spot on the web to locate free Blender textures and materials. We like what the contents of this website have to offer since some of the Blender textures are 16K quality.
Bear in mind though that Textures.com is primarily a subscription website, so while you will come across free materials, the best is sitting behind a paywall.
Is Blender a free software?
Yes, the Blender software is free to download and use for however long you wish. The software is open source and is based on the GNU General Public License (GPL). This means you can use it for commercial or educational purposes.
Is Blender difficult for beginners?
From what we have gathered, Blender is easy to learn, but when it comes down to mastering, it will take some time. If you can learn to use other types of 3D modeling tools, then we expect you'll have little problems with getting your head around Blender.
What are Blender's system requirements?
MINIMUM:
OS: Windows 11/10
Processor: Intel Core i3
Memory: 2 GB RAM
Graphics: 2GB RAM, OpenGL 4.3
Storage: 500 MB available space
RECOMMENDED:
OS: Windows 11/10
Processor: Intel Core i9
Memory: 32 GB RAM
Graphics: 8GB RAM