Although upgrading to Windows 10 has many benefits, it is quite possible that you might want to go back to your previous version of OS like Windows 7, Windows 8 and Windows 8.1. Some users find it very hard to adopt the new Windows 10 or some of the applications might be not compatible with the new OS. You could have unexpectedly lost the data because of a system upgrade which could have also resulted in corrupt settings. For all these uncertainties – a new freeware called EaseUS System GoBack Free can help you! This tool creates an image of your old OS, which is used if you decide to roll back and downgrade from Windows 10.
EaseUS System GoBack Free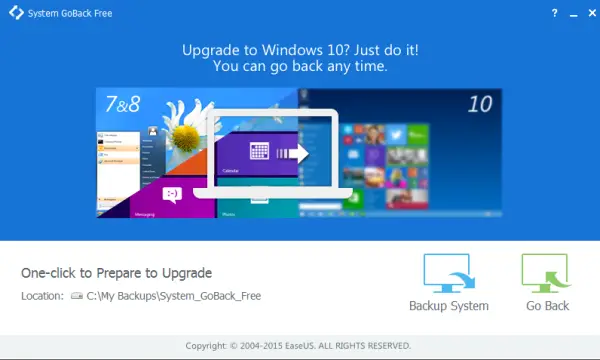 EaseUS which is well known for its data recovery and backup software has released EaseUS System GoBack Free, that allows Windows users to safely downgrade from Windows 10 operating system to Windows 8.1 or Windows 7. If you are encountering any problems after installing the update, by using this software you could back up the system and recover.
Going back to the older version of Windows can be easily completed in merely three simple steps using System GoBack software. EaseUS System GoBack backs up the entire system once you run the program so that you could restore it at a later stage.  In the market, there are many backup programs that offer the same feature, it is the simplicity of the process that stands out here.
Features of EaseUS System GoBack Free
Following are the features which EaseUS System GoBack Free provides:
You can protect your Windows 10 upgrade experience to avoid any sort of data loss.
The software helps you restore the operating system, applications, and games without reinstalling.
You can downgrade from Windows 10 to Windows 7/8/8.1 if necessary.
Whenever you need, go back to the previous system station.
Downgrade from Windows 10
Step 1: Launch the installed "System GoBack Free" application from Start Menu or use its desktop shortcut. You will be greeted with the Splash screen and then you will be shown the screen where you can either "Go Back" or "Backup System".
Step 2: Now back up your system before you upgrade the OS or roll back to the previous system. Click on "Backup System" to get started.
Step 3: If you want to go back to the previous OS, just click the "Go Back" to get your old system back.
This is a very handy tool that helps you restore the previous state of your system. You can either upgrade to ToDo Backup Home or ToDo Backup Workstation to unlock more features.
Visit easeus.com/system-go-back and click on "Download" button. You will be required to submit a valid email address to get a free version of the software. A download link will then be generated, clicking on it will download the .exe file of Size: 76.3 MB.
Windows 10 Rollback Utility is a similar tool you may want to take a look at.
Windows 10 also provides a built-in option to roll back Windows 10. If you carried out an in-place upgrade of your Windows 8.1 or Windows 7 operating system, you can rollback from Windows 10 to your previous version of Windows, provided you carry put the rollback operation, within 30 days of upgrading to Windows 10.