Microsoft Edge browser allows users to install extensions via Microsoft Store. But if you are a system administrator and do not wish to allow users to install them, you can do so easily by using the Group Policy Editor and Registry Editor. In this post, we will see how to disallow or block installation of Extensions in Microsoft Edge browser on Windows 11/10.
What happens when you disable extension installation functionality in Edge
The whole "Extensions" function gets deactivated immediately.
The user cannot install/uninstall an extension.
All the installed extensions get disabled automatically.
The user needs to enable them manually after reverting these aforementioned steps.
Disallow installation of Microsoft Edge extensions using Group Policy
Search for gpedit.msc in the search box or you can enter the same at the Run prompt (Win + R). This will open the Group Policy Editor. After that, navigate to this path-
Computer Configuration > Administrative Templates > Windows Components > Microsoft Edge
Select Microsoft Edge. On the right side, you will see Allow Extensions setting. Double-click on it to open its Properties box.
This setting lets you decide whether employees can load extensions in Microsoft Edge. If you enable or don't configure this setting, employees can use Edge Extensions. If you disable this setting, employees can't use Edge Extensions.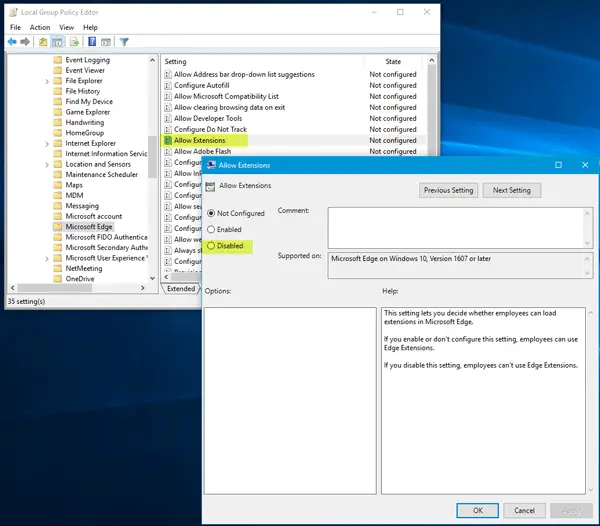 Select Disabled and save your change by clicking the Apply/OK button.
Restart your system and you are good to go.
Block extension installation in Microsoft Edge using Registry Editor
It can also be done using the Registry Editor. But first, you should create a registry backup and a system restore point.
Now Run regedit in the Cortana search box or you can enter the same at the Run prompt. After that, navigate to the following path-
Computer\HKEY_LOCAL_MACHINE\SOFTWARE\Policies\Microsoft
Here you need to make a new key. For that, right-click on Microsoft and select New > Key.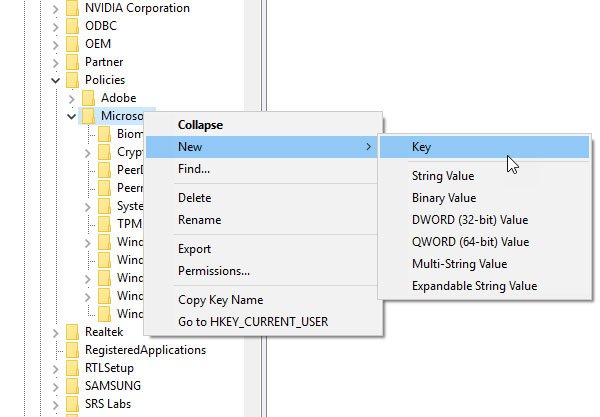 Name it as MicrosoftEdge. Now right-click on MicrosoftEdge key, and select New > Key and name it Extensions.
After that, select Extensions key, right-click on the right-hand side, select New > DWORD (32-bit) Value. You have to name it as ExtensionsEnabled.
The default value data should be 0 and you need to keep that as it is.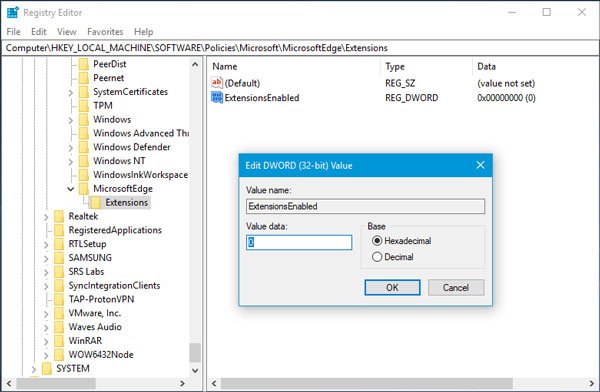 Restart your Windows computer.