Windows 10 has always been about sync and cross-platform compatibility. Microsoft has been building APIs which result in continuity of experiences across devices. Google has made use of this API and has implemented it on the latest version of its Google Chrome web browser. This means that they can continue browsing their webpages from their Windows 10 computers to their smartphones running Android or iOS and vice-versa. But in order for this feature to work, Google will have to sync the browser data with their servers. If you do not wish to either use this feature or sync your data on to the Google servers, you are in luck because you can disable this Send To features.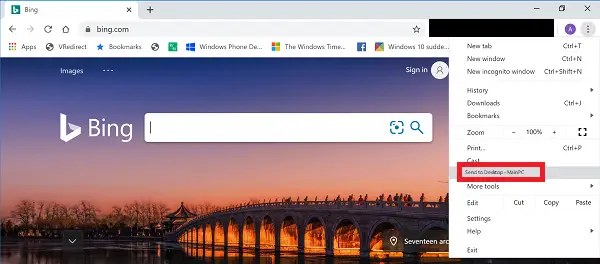 Remove 'Send to' in Chrome browser
To remove the 'Send to' item in Google Chrome browser, you need to turn off the Sync feature as follows:
Open the Google Chrome web browser.
Navigate to the following URL:
chrome://settings/syncSetup/advanced
Look out for the toggle option to Sync everything.
Toggle the option for Sync to Off.

Restart your web browser and it will turn off the sync feature and the Send to feature on it.
I hope this guide helped you!