The focus of mainstream browsers like Firefox is to maintain the privacy of individuals. It rarely collects information about your browsing habits. However, the browser does display Sponsored Top Sites through which it earns money whenever users click on these links. There's a way to disable this option too if you do not like it. Here's how!
Stop Sponsored Top Sites from displaying in Firefox
Mozilla says that when you click on a sponsored tile, its browser sends anonymized technical data to its partner through a Mozilla-owned proxy service. This data does not include any personally identifying information and is only shared when you click on a Sponsored Top Site. Still, if you have apprehensions about this feature, disable it by following these steps.
Launch the Firefox browser.
Click the Open Menu.
Go to Options.
Switch to Home.
Scroll down to Firefox Home content.
Under Top Sites, uncheck Sponsored Top Sites
The list of top Sites list is generated through a score Firefox calls as 'freqency'. It is determined by running a computation across all your currently stored history and then combining it with the number of visits (frequency) and time (recency).
Launch your Firefox browser. Make sure you are running the latest version Firefox.
Navigate the mouse cursor to Open Menu (visible as 3 horizontal bars in the upper-right corner).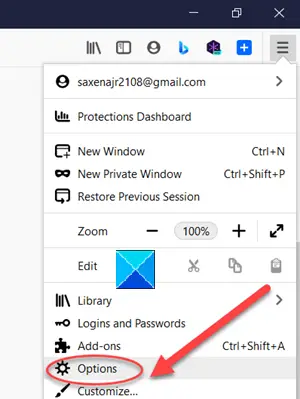 Select Options.
Scroll down to the Home tab.
Switch to Firefox Home content section.
Under it, locate Top Sites.
Below it, you should find the Sponsored Top Sites box. Simply uncheck this box to disable Sponsored Top Sites in the Firefox web browser.
The action when confirmed will stop showing sponsored sites in the New Tab page of the Firefox browser and also from the address bar.
That's all there is to it!