In this post, we are going to show you a tutorial to enable or disable Power Bookmarks Sidebar in Google Chrome.
Bookmarking is an essential feature in all web browsers including Chrome. It enables you to save your favorites or frequently visited websites or web pages in order to quickly access them. Chrome is the most popular web browser that keeps experimenting and launching new functions that make it more accessible and enhance its functionality. Power Bookmarks Sidebar is one such recent addition to the Chrome browser that adds a bookmarks side panel.
The new bookmarks sidebar in Chrome allows you to manage your favorite web pages efficiently. You can simply open the side panel and then navigate to your bookmarks quickly. It also lets you make new bookmark folders, remove any of your bookmarks, rename a bookmark, open a bookmark, etc. You can also use its search box to quickly find and open a specific bookmark. It also enables you to view your Reading List and Journeys. Journey is basically a new and improved function to browse your history in an interactive way. It categorizes the websites you visited under related topics and searched keywords.
The below screenshot shows how the Chrome's Power bookmarks sidebar looks like: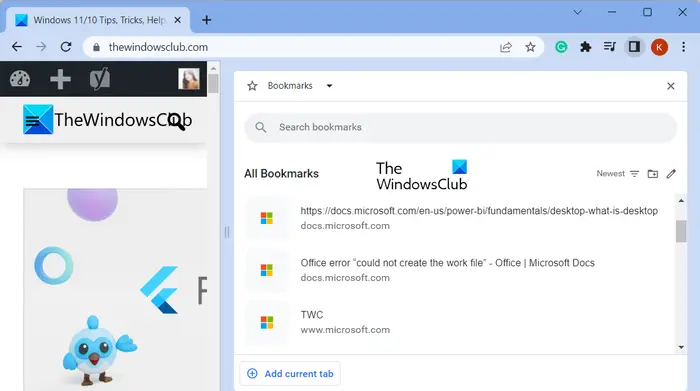 The bookmarks sidebar is switched off by default. However, you can turn it on by enabling it in its settings. Let us check out how.
Disable or Enable Power Bookmarks Sidebar in Chrome
Here are the steps you can use to enable the new Power Bookmarks side panel in your Chrome browser:
Open Google Chrome.
Enter chrome://flags/ in the web address.
Type power in the search box.
Look for the Power bookmarks side panel option.
Set it to Enabled or Disabled.
Relaunch Chrome to apply new settings.
Firstly, open your Chrome browser, type chrome://flags/ in the web address bar, and hit the Enter button. This will open up the Experiments features page from where you can customize a variety of Chrome functions.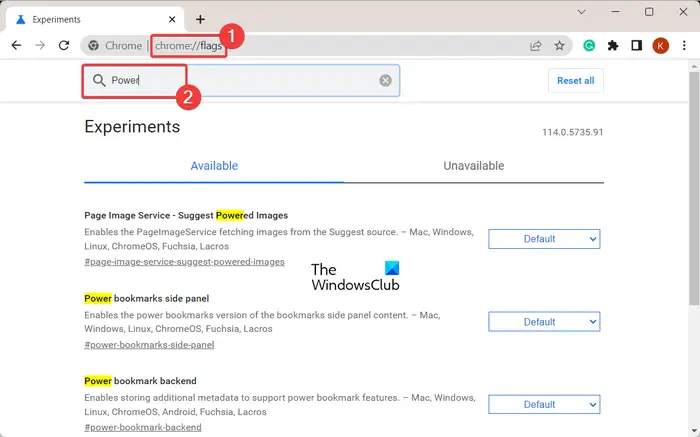 Next, enter power in the Search box and you will see a list of features with power in them.
See: How to enable Energy Saver Mode in Chrome?
From the shown search results, look for the Power bookmarks side panel option. Now, click on the drop-down button present next to it and then choose the Enabled or Disabled option to enable or disable it.
Once done, you will be required to relaunch your Chrome browser to apply the new setting. So, restart your Chrome browser right away.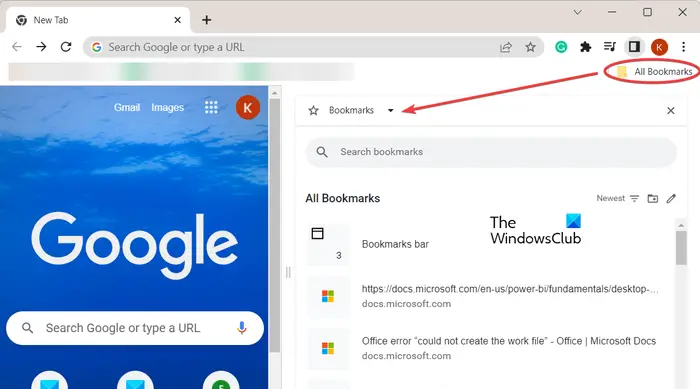 Now, click on the All Bookmarks option from the top-right corner and you will see all your bookmarks in a side panel. It lets you navigate through your bookmarks, reading lists, and journeys You can resize the sidebar, search for a specific bookmark, sort the bookmarks, and create a new folder for bookmarks.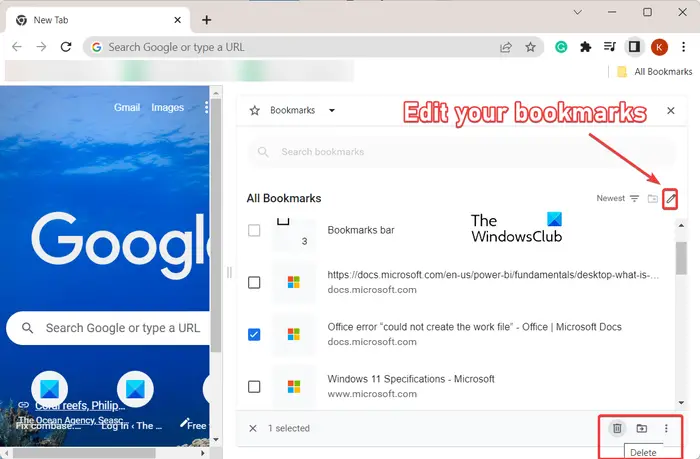 It also provides an Edit button using which you can select one or multiple bookmarks and delete the bookmarks, move them to another folder, rename the bookmarks, and do much more.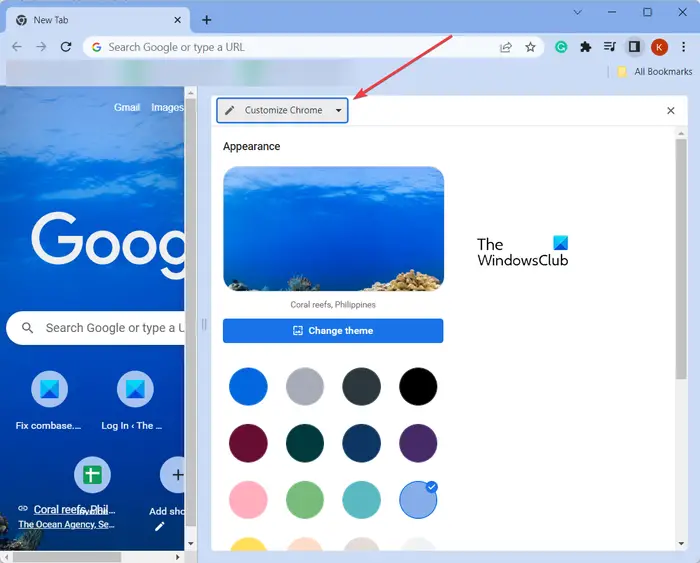 You can also customize the appearance of Chrome right from the bookmarks sidebar. Simply click on the Bookmarks drop-down button present at the top in the side panel and choose the Customize Chrome option. You can now customize the theme of your Chrome browser.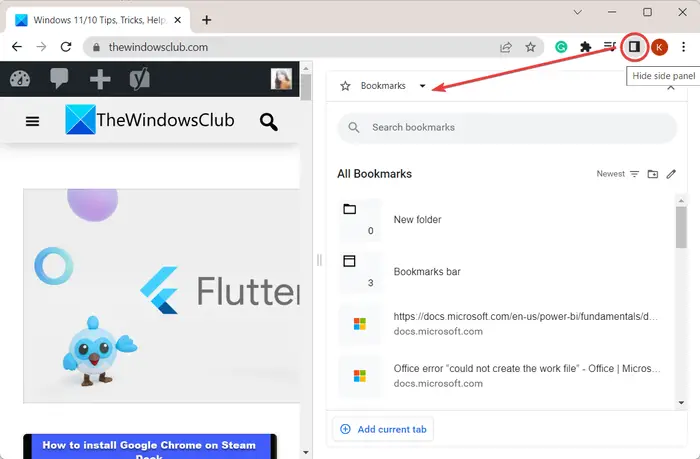 Another way to open the bookmark side pane is to click on the Show/Hide side panel button from the top-right corner. It will quickly open your bookmarks' sidebar and view and manage your bookmarks.
Read: How to enable Memory Saver Mode in Chrome?
How do I disable or enable side panel in Chrome?
To disable or enable the side panel in your Chrome browser, enter chrome://flags/ in the web address bar. Now, search for Side Panel in the search box and then set the value of different side panel options to Enabled or Disabled, as per your preference. You can enable or disable side panel options like Side panel Improved Clobbering, Side Panel Journeys, Unified Side Panel, etc.
How do I enable the bookmarks bar in Chrome?
If you want to enable the bookmarks bar in Chrome, go to the three-dot menu button and move to the Bookmarks option. Next, select the Show bookmarks bar option and it will display all your bookmarks on the top of the window. Alternatively, you can also press the Ctrl+Shift+B hotkey to quickly show or hide your bookmarks bar.
Now read: How to use Side Search in Google Chrome on Windows PC?