Discord is great at delivering notifications, and that is one of the many reasons why we like it. However, not everyone wants to have these notifications ringing off, especially at times when they require immense silence. The best way to get this problem under control is to disable notifications altogether. The question is, how easily can achieve this? Well, one should not worry much because Discord has made it super easy to manage notifications.
Before we begin, we should point out that there are multiple ways to handle notifications on Discord, and we aim to explain every one of them. If you believe we've missed a few, then let us know in the comment section.
How to turn off Discord notifications for Users
Disabling notifications on Discord is very easy, but there are multiple types of notifications to take into consideration.
Disable Discord notifications from a specific person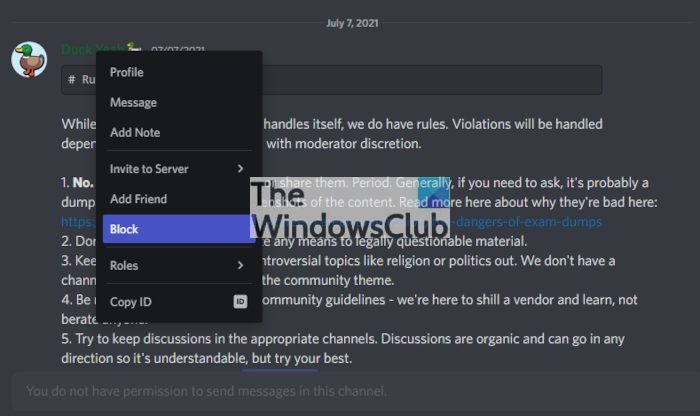 First, we will begin by disabling notifications from a specific person. There is a way to stop notifications from people specific when using Discord, and that way is to block them entirely.
Go to the chat where the user is located: The next to do here is to visit the chat with the user you want to block or search for their username via the search function.
Block the user: Finally, right-click on the user's name in the chat, then select the Block option, and that's it.
Block Discord notification by muting the user
You do not have to block the user to any longer get notifications from them. You can simply use the mute option to put them on silence.
Go to the chat: You must launch the chat right away where the user is located, or search for their username to find the official profile.
Go to the Mute option: You will now want to right-click on the username, and once you've done that, hover over the Mute button via the dropdown menu.
Choose the length of the Mute: After hovering over the Mute button, you will see options for how long you want the user muted. Select the preferred length, and then that's it, this user won't be a problem anymore.
Disable Discord notifications for one or multiple channels
If you're on a popular channel that is filled with activity, then chances are, you'll be constantly annoyed. Best to stop all notifications in their tracks once and for all.
Open the relevant channel – Your channels are usually found on the left pane, so click on the icon right away to open it.
Right-click on the channel name – The channel's name is located in the top-left corner of the Discord app. Once found, right-click on it to reveal additional options to play around with.
Mute the channel – Hover the mouse pointer over Mute Server, then select your preferred timeframe to complete the task.
Disable push notification – From the same dropdown menu, go to Notification Settings, then untick Mobile Push Notifications to stop all alerts from hitting your smartphone.
How to disable Discord notifications from a server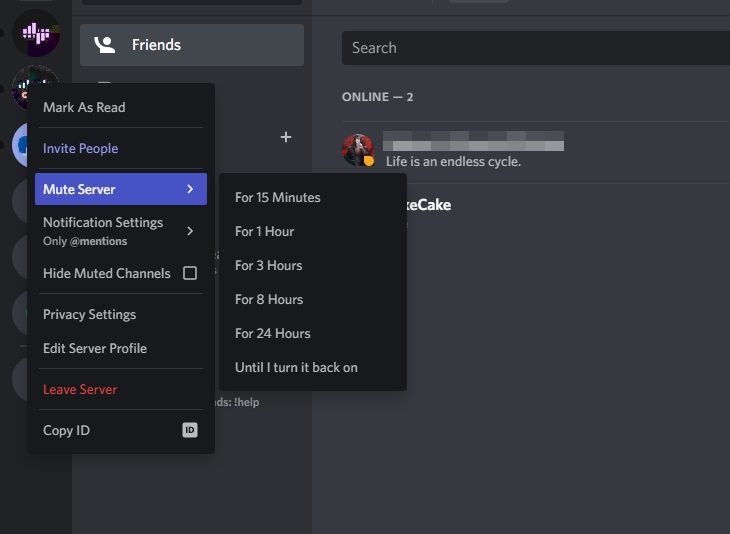 OK, so maybe you want to mute an entire server from sending notifications, and that is perfectly fine. Accomplishing this is not hard by any means, so let us look at what needs to be done.
Find the server icon – If you are new to this, please look to the left panel and you should see a list of your servers.
Mute the server – When it comes down to muting the server, then, simply right-click on the icon and then select Mute Server. Finally, choose the timeframe and now you should no longer be getting pesky notifications.
Read: Fix Messages Failed To Load error on Discord
Is Discord PC Only?
Discord is popular on PC, but it can also be had on Mac, alongside Android and iOS devices. There is also the option of using it via a web browser.
Is it safe to use Discord?
Discord is a safe app to use. While it does collect user information, it does not do this on a broad scale when compared to some competing services.