The Lock Screen in Windows 10/8 is pretty good to look at, but not required on a PC or a laptop. Sure it has its use on a Tablet, where users may like to see notifications, date or time even when their device is inactive. But on a desktop, it's just one more step to cross before you can log in. You have to open the Lock Screen by either clicking on it or to hit Enter, which is a waste of effort.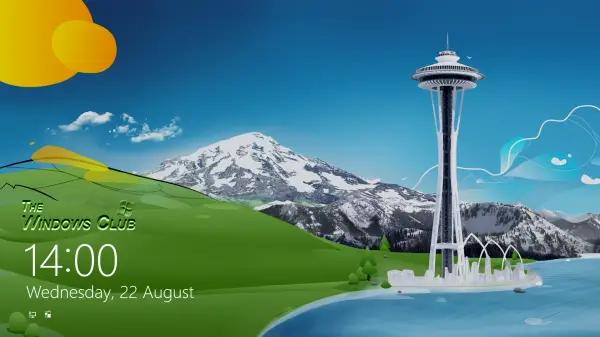 Disable Windows 10 Lock Screen
If you do not like the default Lock Screen, you can always change it. But if you wish to completely disable the Lock Screen in Windows 10 / 8, you can do that too. To do so, Run gpedit.msc to open the Group Policy Editor. Now navigate to the following settings:
Computer Configuration > Administrative Templates > Control Panel > Personalization.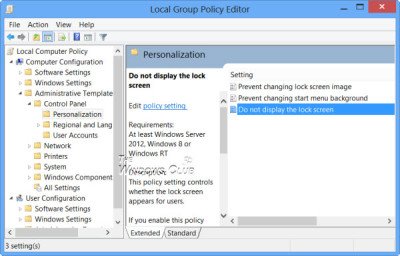 In the right-side pane, double-click on Do not display the lock screen to open its settings box.
Select Enabled and click on Apply/OK. That's it!
This policy setting controls whether the lock screen appears for users, in Windows Server 2012, Windows 8 or Windows RT. If you enable this policy setting, users that are not required to press CTRL + ALT + DEL before signing in will see their selected tile after  locking their PC. If you disable or do not configure this policy setting, users that are not required to press CTRL + ALT + DEL before signing in will see a lock screen after locking their PC. They must dismiss the lock screen using touch, the keyboard, or by dragging it with the mouse.
If you wish, you can also disable the Windows 10 / 8 Lock Screen by editing the Registry Editor. To do so, type regedit in search and hit Enter to open it.
Navigate to the following registry key:
HKEY_LOCAL_MACHINE\SOFTWARE\Policies\Microsoft\Windows\Personalization
If you do not see Personalization, you will have to create a new Key and name it so.
Now in the right pane, create a new DWORD and name it NoLockScreen.
Next double-click on NoLockScreen to change its value from 0 to 1.
Click OK and exit the Registry Editor.
Restart your Windows 10 computer.
You will now, NOT see the Lock Screen, but will directly see the login screen after the boot screen.
There is one easy way to do it! Use our Ultimate Windows Tweaker 4. You will find the setting to Disable Lock Screen under Customization > Modern UI > Lock Screen.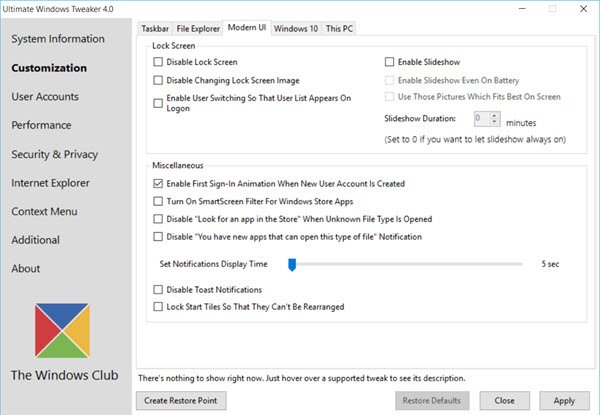 Go here if you want to prevent users from changing Lock Screen or Start Screen image in Windows 10.