All of us are familiar on how to personalize and customize our Windows 7 desktop experience. We change our logon screens, change wallpapers, themes and so on. Things are a bit different in Windows 8, however. In this article we will see how to go about changing and personalizing our Windows 8 experience.
To begin, take your mouse cursor to the top right corner or press Win+C to open the Charms Bar. Click on Settings. Towards the bottom, you will see More PC Settings.
Click on it to open PC Settings. Now under Personalize, you will 3 tabs offering you options to change the Lock Screen, Start Screen and Account Picture.
Change Lock Screen in Windows 8
To change the Lock Screen in Windows 8, click on Lock Screen and select the image you want to display. If you wish you can also browse for a picture on your computer and set it as the Lock Screen.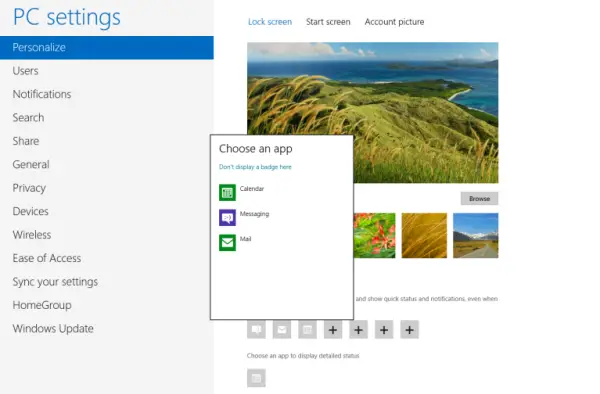 You can also choose the app or add new apps whose detailed current status you'd like to display on your Lock Screen. If you wish you can also have it display Detailed Status on your Lock Screen.
Change Start Screen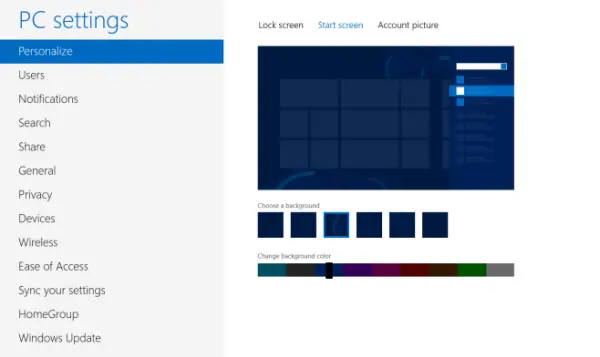 Customization options for the Windows 8 Start Screen are currently rather limited. In the PC Settings, when you  click on the Start Screen tab, you will see options to choose one of the offered background designs. What you can at most do, is change the color of these backgrounds, using the slider. Changes will be applied instantly, so you don't need to Save your settings.
Change Account Picture in Windows 8
To change your account or user picture, click on the Account Picture tab. Here you can browse for an image on your computer and select and set it as your User Picture.
Change Themes and Desktop background in Windows 8
When on the Windows 8 desktop, things get pretty familiar. Like in Windows 7, you have to right-click the desktop and select Personalize. As usual, you can select the theme and change your wallpaper, Windows color, Sounds and Screen Saver. Windows 8 offers an additional customization option.
You can choose to let Windows 8 change your Window color automatically to match your wallpaper or select and pre-set a single color only.
Those of you starting on Windows 8, might also want to read this Beginners Guide on using Windows 8. If you wish, you can also Disable the Lock Screen in Windows 8.