iTunes is the home of Apple Music. This superstore of entertainment lets users purchase music online through their iPhone, iPad, or iPod Touch. It even works on a Windows PC that provides a backup for iTunes libraries. When you launch iTunes in Windows 10/8/7, an app – iTunes Helper starts running in the background. While the app is only there to launch iTunes when you plug any Apple device to a PC, it becomes a part of a major annoyance once you start to see it over and over again or whenever you plug in your iOS device to your PC.
In this post we will see how you can stop iTunes from starting automatically when you plug in your iPhone. Basically, you need to disable iTunes Helper & remove iTunesHelper.exe from startup programs.
Disable iTunes Helper in Windows 10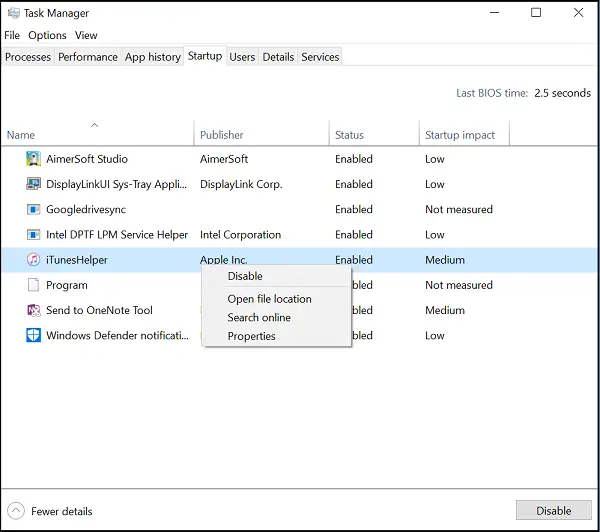 If you have iTunes installed on your system then, you will also find iTunesHelper.exe – a start process already enabled on your system and running silently in the background.  Windows Task Manager's startup impact marks iTunesHelper as High/Medium impact. As such, it can slow down the performance of your system.
Stop iTunes from opening automatically
Disabling it can improve the speed, instantly. It doesn't harm you in any way since we no more require syncing content over the wires (between computer and phone) rather, we prefer storing all the data in the cloud. This renders iTunes irrelevant for certain tasks.
To disable iTunesHelper.exe, go to Task Manager and switch to Startup tab.
Next, find iTunesHelper.
When found, right-click and select Disable.
Disable option grayed out in Task Manager
If you find that the Disable option is grayed out then, you will need to log in as an Administrator. If you are running an Administrator account and still facing the issue then, enable the built-in Administrator account. and try. Remember to disable the super admin account after the troubleshooting is done.
All the best!