There may be times when you may want to disable the auto-refresh in Microsoft Edge (Chromium) or Internet Explorer browser for various reasons. You might be reading some important data when the auto-refresh setting suddenly refreshes the webpage, and you lose track of it. Or maybe you want to simply avoid unnecessary data transfer and save on some bandwidth charges. Whatever be your reason, you can disable the auto-refresh feature to get a stable web page.
Many websites have the auto-refresh feature that keeps updating your timeline even as you are reading the data. This is especially so on webpages that have content being updated almost immediately – may be on a sports page where the score is being displayed. You can stop this auto-refreshing, to avoid the confusion and to stop Internet Explorer from going in for the unwanted download of data – thereby saving your money and your time in relocating the data that you were looking at.
Disable auto-refresh in Edge browser
Microsoft Edge doesn't have a built-in function that allows you to block auto-refresh of webpages.
You will have to download & install a Chrome Extension called Auto Refresh Blocker or Stop AutoRefresh.
Disable IE auto-refresh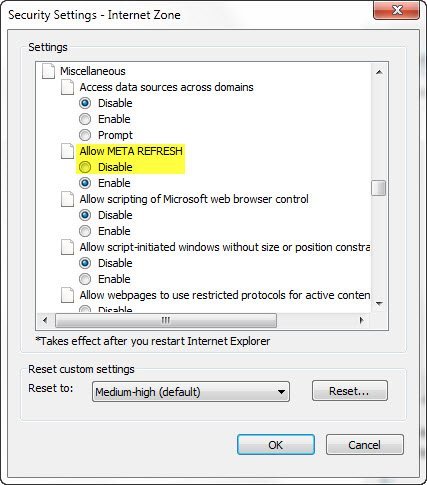 To disable Internet Explorer from automatically refreshing a web page:
Close all windows of Internet Explorer.
Open Control Panel
Open Internet Options
Click and select the Security tab
On the Security tab, make sure the Internet Zone is highlighted in the box where you find Local Intranet, Trusted Sites and Restricted Sites
Click on Custom Level. If you cannot find the Custom Level option, see if you have already set the security for the Internet to Custom Level. If that is the case, you will have to click on Default Level button. Once you do this, the Custom Level button would be available.
In the dialog box that comes up when you click Custom Level in step 5 above, check for Allow Meta Refresh (Allow Automatic Refresh in Internet Explorer) and click to disable it.
Click on OK and click to confirm that you wish to change the default settings for Internet Zone.
Click OK to close the Internet Options dialog box.
This should stop many websites from refreshing automatically when they are set to auto-refresh.
Please note that some websites (including Twitter) do not use Meta Refresh to refresh your webpage. In fact, the use of meta refresh by websites is decreasing, and many prefer to use Java Scripts or HTTP redirection headers. If you intend to stop them, you will have to ask Internet Explorer to stop processing JavaScript, which is not recommended. You can disable scripts and script behavior using the same Custom Level dialog box (Step 6 above).
TIP: This post shows how to stop a web page from auto-refreshing in Chrome or Firefox.
If you need assistance with stopping scripts, just leave a comment, so that we can try and assist you accordingly.