Although the new Microsoft Office carries improvements over the previous Office versions, you may still not want to upgrade it. Users of Office 365, who are using earlier versions of Microsoft Office desktop software are seeing this popup notification add on their computers that recommends an upgrade to Office 2021/19/16 – GET THE NEW OFFICE, It's one of the perks of having Office 365.

For instance, every time you open an Office program like say, Word, a notification in a yellow message bar on top of the window says "Get the new Office" along with "See what's new" and "Update Office".
If you click on "Update Office" accidentally, the Office installation will be upgraded automatically. Therefore, you must disable "Upgrade to Office" notification permanently if you want to avoid any unwanted installation.
Disable GET THE NEW OFFICE Notification
Using Registry Editor
This option involves editing the Registry key of your PC.
Open the registry by pressing the keyboard shortcut – Windows key + R. Enter regedit into the Run menu, press Enter, and confirm with Yes.
Next, navigate to the following location:
HKEY_LOCAL_MACHINE\SOFTWARE\Policies\Microsoft\office\15.0\common\officeupdate
Add the following value under the office update subkey:
"enableautomaticupgrade"=dword:00000000"
Using an Easy Fix from Microsoft

Alternatively, you can download Microsoft's "Easy fix" that will implement above Step 1 and Step 2 automatically and restart your computer for it to come into effect.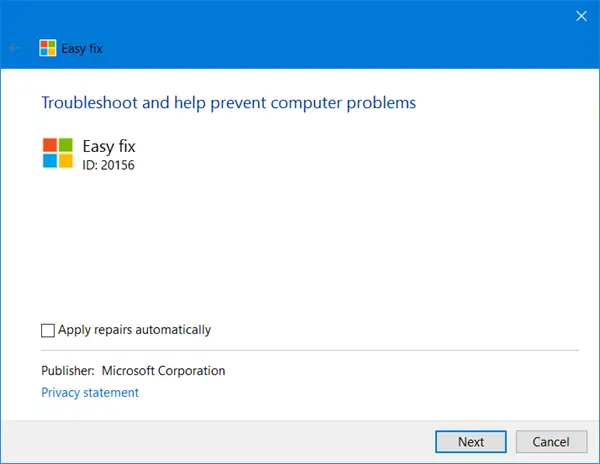 Download Easy Fix from Microsoft and run it. Then follow the steps in the Easy fix wizard.
This installation wizard may be in English only. However, the automatic fix also works for other language versions of Windows.
Disable Office Update notifications
Some users who have already used Easy Fix, have observed that while the "Get The New Office" prompt stops appearing, the "Updates Available" prompt now appears frequently but doesn't install any Office updates. In case you too experience the same then follow the below steps for solution.
Using Registry Editor
Press Win+R to open the Run box. To open the Registry Editor, type regedit and click OK.
Navigate to the following key:
HKEY_LOCAL_MACHINE\Software\Microsoft\Office\15.0\ClickToRun\Updates
In the right pane of the registry editor, double-click UpdatesBlockedTime. The Edit String dialog box appears. In the Value data field, change the existing value to 0, and then click OK.
Close the Registry Editor.
Using Group Policy
This option can be used by Office 365 ProPlus and Business users.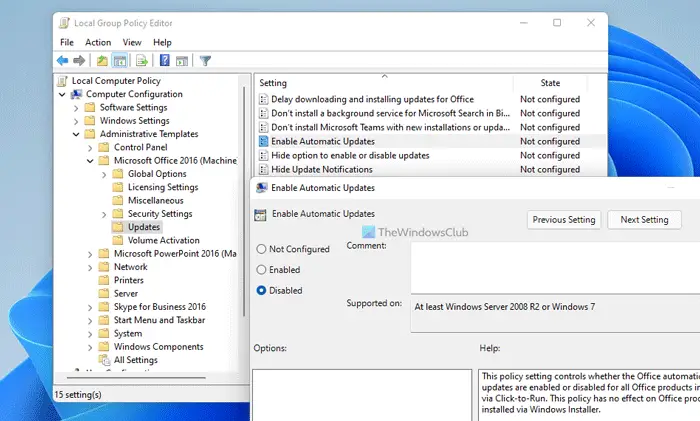 Go to the Group Policy Editor > Computer Configuration > Administrative Templates > Microsoft Office (Machine) > Updates.
Now open Enable Automatic Upgrade and select Disabled. Click Apply. The Office upgrade prompt is now disabled.
This Group Policy setting can be used only on computers that are joined to a domain.
How do I stop Microsoft Office update notifications?
To stop Microsoft Office update notifications, you need to use the Registry Editor. Press Win+R > type regedit > hit the Enter button > click the Yes option. Navigate to HKEY_LOCAL_MACHINE\ software\policies\microsoft\office\16.0\common\officeupdate. Right-click on officeupdate > New > DWORD (32-bit) Value and name it as hideupdatenotifications. Double-click on it to set the Value data as 1. Click the OK button and restart your computer.
How do I get rid of genuine Office notification permanently?
The only way to get rid of the genuine Office notification is by activating your installed copy. There are mainly two ways to activate an Office copy on Windows 11/10. You can either log in to your Microsoft 365 account (the account you used to purchase the subscription), or you can enter the valid product key.