Mozilla Firefox will display notifications directly in the Windows 10 Action Center. Apart from this, users also have additional options like configuring the numbers of notifications they should receive and setting their priority by visiting Notifications & Actions settings. This, however, can cause a distraction for most users. In fact, it has increasingly become a method to promote unwanted extensions, fake software, etc. So, if you wish to disable this feature i.e., subscribing to Firefox notification in Windows 10 Action Center, follow this article.
Turn off Firefox notifications in Windows 10 Action Center
To completely disable notifications for a site, you can use Firefox's hidden secret advanced configuration about:config page.
Open Mozilla Firefox and type about:config in the address bar and press Enter. If shown a warning message, ignore it and click 'I accept the risk!' button.
Now, type alerts in Search filter box and hit Enter. The following preference should be visible in the window there:
alerts.useSystemBackend
If you find that the value of the preference is set to true, you should see websites notifications in Windows 10 Action Center. To disable this, you will have to change this value and set it to false. When configured, Firefox will show notifications in its own notification system.
So, to modify the preference, double-click on alerts.useSystemBackend preference and change its value. Alternatively, you can right-click on the preference and select Toggle option.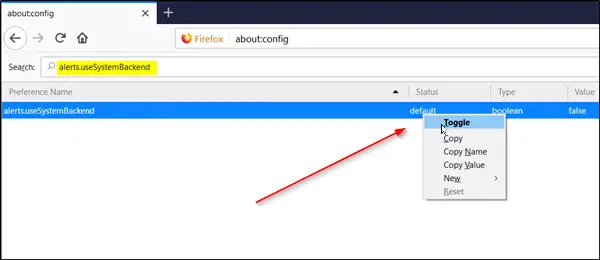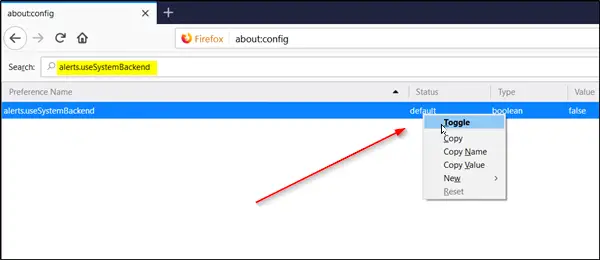 That's it!
Close the window and restart the browser. The changes will apply immediately.
It is important to note that Firefox is not the first browser to enjoy this support –  Chrome also supports native notifications on Windows 10.