You can have more control over your browser by disabling downloads. This practice not only ensures enough disk space but can also be a measure to guard your PC against malicious downloads and malware. This post will show you how to disable downloads in Chrome and Firefox browsers on Windows 11/10.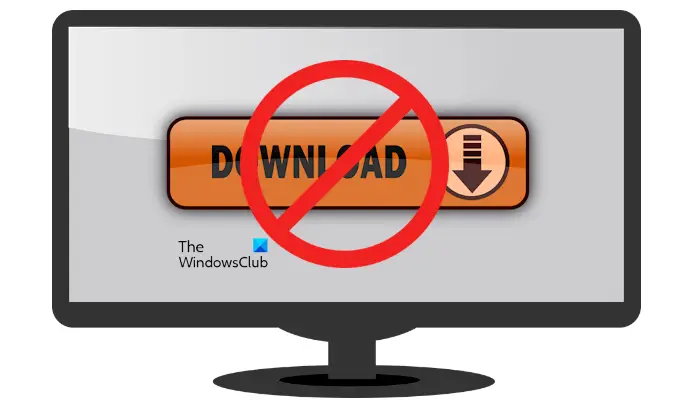 Though Google Chrome and Firefox block malicious files from being downloaded, by using this method, you can have more control over downloads.
Block or disable Downloads in Chrome and Firefox on Windows
The method of downloading any content via a browser is very straightforward. All you must do is click on a download link, choose a suitable storage location for the file or a folder, and then save the downloaded content. However, when you choose to disable this download operation, there is automatic suppression of the file download dialog box.
Different editions of Windows such as Windows 11/10 Pro, Windows 11/10 Education, etc. allow you to restrict downloads via Group Policy. However, Windows 11/10 Home Edition doesn't support this capability. As such, you have to block downloads in the browsers via either the Windows registry or an extension/addon. You will need admin rights to edit the registry.
Disable Downloads in Chrome
Open the Windows Registry editor and go to the following location-
Computer\HKEY_CURRENT_USER\Software\Policies\Google\Chrome
If you do not find the entry for the Chrome keys under the Policies, do not worry. You can easily create one.
For this, right-click the Policies key and select New > Key. Name it as Google.
When done, right-click the Google key and select New > Key and name it as Chrome.
Now, under the Chrome key, right-click the empty panel on the right and select New > DWORD(32-bit) Value. Name it DownloadRestrictions.
Double-click it and enter the value 3. Entering this value will disable all downloads in Chrome.
The other values are-
0 – This value enables all downloads again
1 – This value will only block dangerous downloads
2 – It blocks suspicious-looking downloads.
Restart your Chrome browser. Hereafter, your downloads will be disabled, and you will not be able to download anything via Chrome.
Reversing the changes is also easy. Select any value from above to configure the new changes.
Block Downloads in Firefox
There's a very useful extension for the Firefox browser that allows you to block all downloads. It is called Public Fox. The add-on for Firefox not only stops downloads but also locks down bookmarks with a password.
To see this add-on in action, go to the addons page and hit the 'Add to Firefox' button. The action when confirmed will add the 'Public Fox' extension to the Firefox browser. Public Fox installs and uninstalls without issues.
Now, to access the settings of this extension, go to the 'Menu' (visible as 3 horizontal bars) and choose 'Addons'.
Next, select 'Extensions' to manage the 'Public Fox' settings. Choose 'Options' to access settings.
The 'General' window will let you configure settings for the following-
Locking add-ons Windows
Lock Firefox options
Lock 'About:config' settings page.
Simply check the boxes marked against the above options to lock all kinds of Firefox features. Besides these, the extension will also let you disable file extensions that you do not want to download. Simply add the file extensions separated by a comma to block them.
You can add a password to further restrict the download behavior of your browser.
Lastly, Public Fox addon scans the web for information about (good and bad) websites, Hosts, etc., and shares them with blocklists. After you have configured the required settings, press the 'Save' button.
You don't have to restart Firefox for your changes to take effect. After configuring Public Fox, attempt to perform the blocked behaviors, including going to a prohibited Web site and downloading an EXE file. You will either be denied permission or if you have set a password, prompted to enter it.
PublicFox also asks you to add the extension AdBeaver which helps you collect coins and makes ads even more secure. You will get asked in a prompt whether you want that additional addon to be installed or not. Select No!
I was quite impressed by the utility and versatility of Public Fox. If you're doing this to prevent a user from downloading files, it will work, and the user will not be able to reverse the change unless they have admin access to the system.
Why is Firefox blocking downloads?
By default, Firefox blocks malicious files from getting downloaded on your system. But if other files are also blocked by Firefox from being downloaded, you can try some fixes, like changing the download folder location, clearing the download history, etc. In some cases, antivirus or firewall block files from being downloaded. You can check this by temporarily disabling your antivirus or firewall.
How do I unblock harmful downloads in Chrome?
Chrome blocks suspicious files from being downloaded on your system. But if you want to unblock harmful downloads in Chrome, you can do so by changing the Security settings. We do not recommend this because after performing this action, Chrome will not be able to protect against dangerous websites, downloads, and extensions. Open Chrome Settings and select the Privacy and Security category from the left side. Now, scroll down and select No protection (not recommended). You will receive a confirmation message to turn off Safe Browsing. Click Turn off.
That's it. I hope this helps.
Read next: Firefox not installing on Windows 11/10.