If you try to rearrange files and sub-folders in Explorer on Windows 10/8/7 systems, you will find that the operating system does not allow you to do so. If you wish to disable auto arrange of items in a folder with a click, and allow users to manually arrange files in a folder, then you have come to the right place.
Disable Auto Arrange in a folder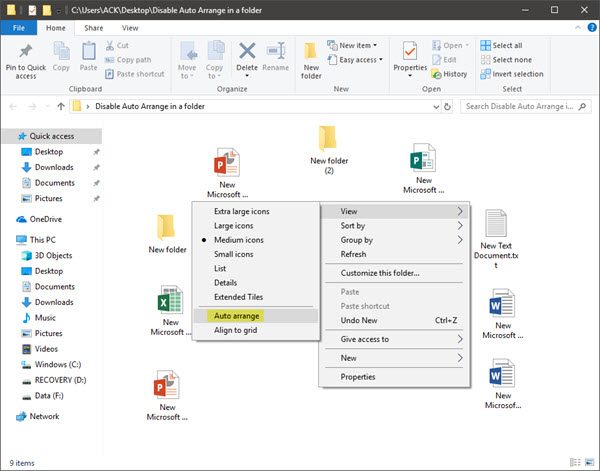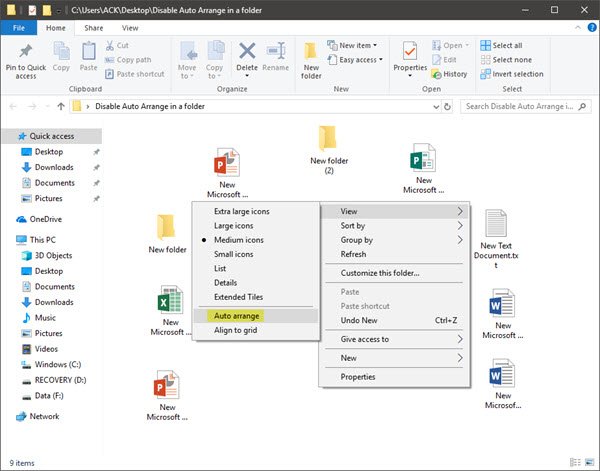 While searching for a way to do this, I can across this post on Microsoft Answers. Here I found a link to a post on unawave.de that shows the way to do it manually.
They have even created a batch file that automates the whole process.
Although the file appears to have been created for Windows 7, I have tried this in my Windows 10 PC, and it worked just fine. So I believe it should work on Windows 8.1/8 as well.
So if you wish to disable auto arrange in a folder, download this file, unzip it. Right-click on the .bat file and select Run as Administrator. But before you do this, you should create a system restore point first, just in case you need to or want to go back.
How to manually arrange files in a folder?
While this was possible earlier, you can now no longer disable the organization of the folders in alphabetical order.
UPDATE: Please read the comments. This does not seem to be working in recent versions of Windows 10. So if you are facing problems, best to restore your PC back to the system restore point you created before you applied this tweak.
Do remember to right-click inside the folder, select View and then unselect Auto arrange!
Read next: How to Disable Full Row Select in Windows 11/10/8/7 Explorer.