When you go on to use a Dial up connection, you receive an Error 633 message in Windows 10/8/7, then here are a few things you could try to fix the problem. This error can occur if the COM or Communication Port used by the Modem has been reserved for some other program, or if multiple Internet connections have been set up.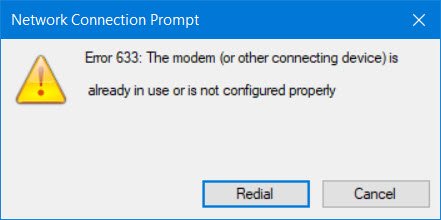 Dial-up Error 633 The modem is already in use or is not configured properly
Create a system restore point first and then Run regedit to open the Registry Editor.
Navigate to the following key:
HKEY_LOCAL_MACHINE\SYSTEM\CurrentControlSet\Services\RasMan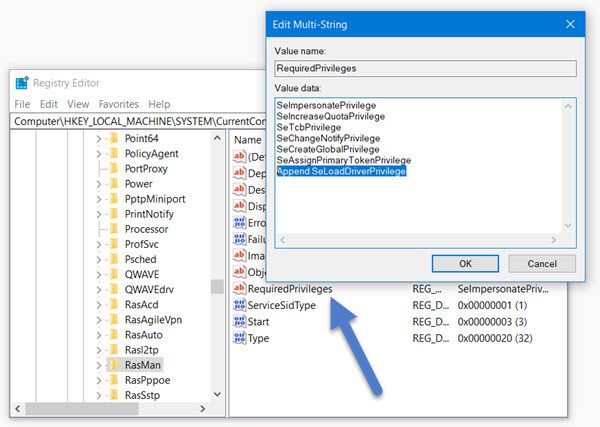 In the right pane, you will see RequiredPrivileges key. Double-click on it.
Now very carefully add Append SeLoadDriverPrivilege at the end. Be careful to not delete or change the other entries. Click OK to a prompt that may appear and exit.
Restart your Windows computer and see. Modem connectivity should be restored.
If this does not help you, here are other things you could try:
Disable your VPN software if you are using it
Run the Network Troubleshooter. To start Windows Network Troubleshooter, type Network Troubleshooter in the search box next to Start Button. Click on Identify and Repair Network Connections from the list that appears.
Uninstall & reinstalled the Dial-up connection
Update Modem driver.
Microsoft has said that it is aware of this issue with modem connectivity and they are working on releasing a fix for Windows 10 v1703. Till then you could see if this post helps you.