If Diablo 4 is stuck on Character Creation or Selection, this post will help you. Diablo 4 is an action role-playing game developed and published by Blizzard Entertainment. The game's story takes place several years after the events of the previous version.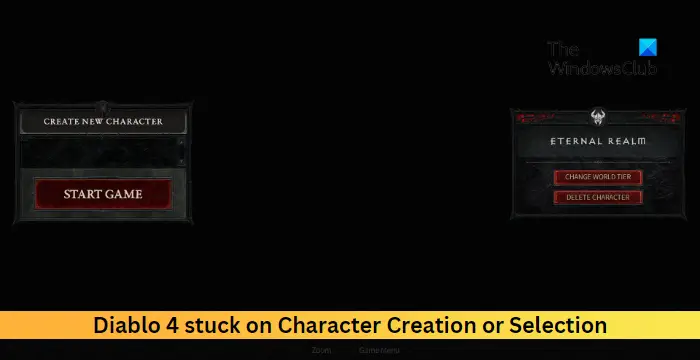 Fix Diablo 4 stuck on Character Creation or Selection
If Diablo 4 gets stuck while creating or selecting a character, restart the game or your PC and see. Other than that, you can follow these suggestions:
Run the Game as an Administrator
Check Diablo 4 Servers
Scan the Game Files
Update the game
Now let's see these in detail.
1] Run the Game as an Administrator
Before you start with different methods, run Diablo 4 with administrator privileges. This will help if the Character Creation or Selection error occurs due to a lack of permissions. To do so, right-click on the Diablo 4.exe file and select Run as Administrator.
2] Check Diablo 4 Servers
Next, check if the servers of Diablo 4 are under maintenance. Follow @Diablo on Twitter to stay updated on any scheduled maintenance and ongoing downtimes.
3] Scan the Game Files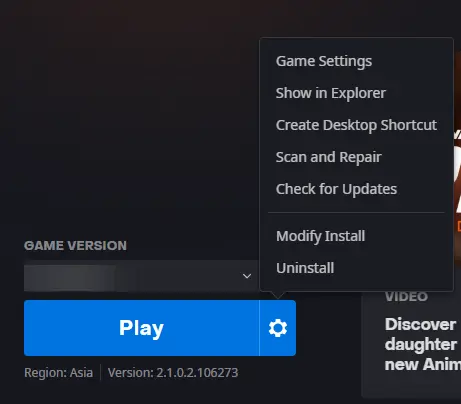 Corrupted or missing game files are known to cause many bugs and errors. To fix this, you'll have to scan the game files. Doing so will verify the integrity and health of the game's installation files. Here's how you can do it:
Launch the Battle.net client and click on Diablo 4.
Click on the Gear icon and select Scan and Repair.
Now click on Begin Scan and wait for the process to complete.
Restart your PC once done.
4] Update the game
Lastly, update Diablo 4 to its latest version. The developers often release updates and patches to fix bugs and improve the gameplay.
Read: Fix Diablo Immortal Connection issues on Windows PC
I hope these suggestions help you.
Why is Diablo 4 character select not loading?
Diablo 4 character select may not load if the servers are facing downtime. However, it can also occur due to a lack of permissions or if the game files are corrupted.
Can you customize your character after creation in Diablo 4?
Yes, Diablo 4 allows users to create and customize characters. This can be done only with the characters of certain classes, including Barbarian, Rogue, Sorceress, Druid, and Necromancer.