Your Device Manager showing multiple processors is not something to worry so much about. In rare cases, this might be an issue that may need to be fixed. Modern processors have threads and multiple cores, and hence Windows systems might interpret these as extra processors and show them in the Device Manager of your Windows 11/10 computer.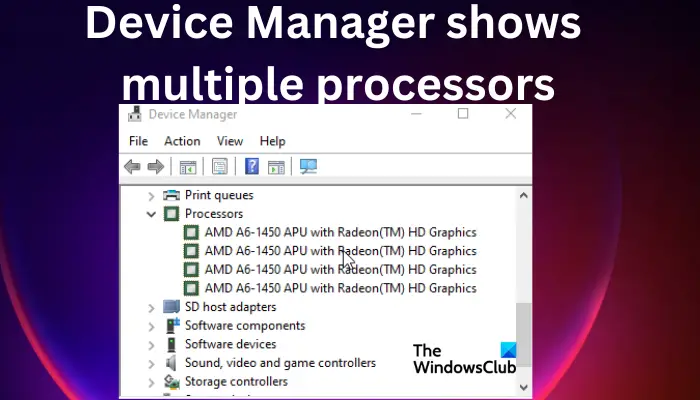 Device Manager shows multiple processors in Windows 11/10
If your Device Manager shows multiple processors, first check the model of processors in your computer. Many modern processors are built-in with numerous Cores and Threads. For instance, if your PC processor has 2 threads and 8 cores, in total, it has 16 threads. Windows will treat and indicate them as 16 processors, and that is what will show in the Device Manager.
If you doubt why the Device Manager shows multiple processors, you can check the processor's model and specifications from the manufacturers. You should ignore multiple processors on the Device Manager if you have a virtual machine installed, as the PC will show processors allocated to each virtual machine. The processors with multiple cores will also show 'extra' processors on the Device Manager. Other reasons why the Device Manager shows multiple processors are the processors that use hyperthreading or some complex systems may have many installed physical processors.
You can check if the processor you are using is legit. First, identify the model and then see various ways to check the authentic Windows processors on the manufacturer's website.
Another way to check if the processor is legit is by using the boot menu. Here is how:
Open the Run box and type msconfig.
Once the small window is open, click on the Boot tab.
Go to Advanced options and then uncheck the box next to Numbers of processors.
Hit OK followed by Apply to save the changes.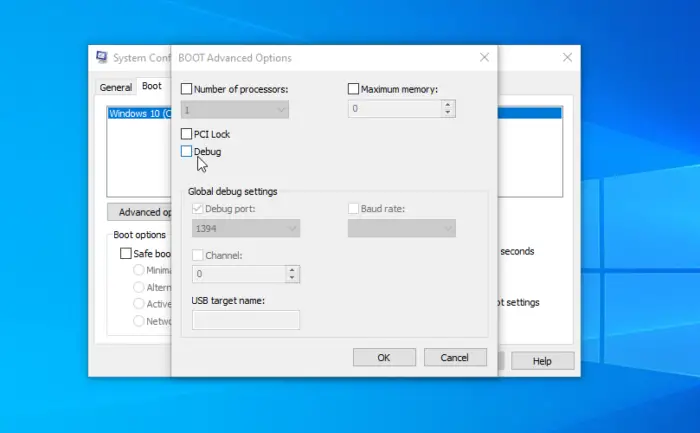 After doing all that and confirming all the details, and you are still convinced that the processor has some issues, you can run some solutions and see if the Device Manager will show the correct number of processors. Perform the following solutions to fix the Device Manager showing multiple processors:
Perform preliminary steps
Scan for viruses and malware
Repair Windows
Let us look at these solutions one by one.
1] Perform preliminary steps
If your Device Manager shows more processors than you actually have, perform preliminary steps like restating your PC or checking if your system is overheating. You can also close all virtual machines on your PC and see if the issue is resolved.
2] Scan for viruses and malware
Viruses and malware can cause countless issues with your PC, including the Device Manager showing multiple processors. Scan your entire system to try and remove any viruses that are causing your Device Manager to show extra processors. We recommend doing a full scan, even if it takes much longer than a quick scan.
3] Reset Windows
Your Windows operating system may have issues that cause the Device Manager to indicate more processors than the system actually has. Here is how you reset Windows using Settings:
Use the keyboard shortcut Win + I to open the Settings app.
Go to Windows Update > Advanced Options > Recovery > Reset PC.
Follow the on-screen directions to complete the process and remember to choose the Keep my files option along the way.
You may also choose to repair Windows using various methods like System Restore, Advanced Startup Repair, etc.
We hope something here helps you.
Read: How to find out Processor Brand and Model on a Windows computer
How many processors is normal?
For standard PC users, dual-core or quad-core processors should be enough. Many single or business users find dual-core enough are there is no sufficient number of non-specialized programs that can run on quad-core processors. However, if you use huge programs for data analysts, engineers, etc, you might 4 or 6 core processors.
Read: How to check Intel processor generation in Windows 11
Is it good to have multiple processors?
Whether it's good to have multiple processors or not depends on what resources your computer needs to process certain tasks. Some computing processes might need more resources than others. So, if you run resource-intensive applications or probably many programs at a time, your computer will need multiple processor cores to run smoothly.