Having a YouTube account is very important for a lot of users on the internet today. The idea of possibly becoming a YouTuber or Influencer is quite enticing due to the amount of money involved. And with working from home slowly becoming a real thing, we could see more people trying their luck at making videos.
Hide or Delete YouTube Channel
But what if you're a long-time account holder who has grown tired of the platform and would prefer to simply delete your channels and account? Or maybe you want to focus on other upcoming video platforms. Worry not, because Google has made it possible for everyone to delete their accounts with relative ease.
If you're unsure how to get it done, this article will explain much of what you need to know. By the end, we expect you to become a master at deleting your YouTube accounts.
1] How to hide your YouTube channels temporarily
Yes, it is possible to hide your YouTube channel for a while if you intend to use it again. Bear in mind that when the channel is hidden, all content situated with it will no longer be accessible by the general public.
Additionally, the process of doing this will delete your comments permanently, so please keep that in mind before going forward because there is no way to get them back.
Visit your YouTube page and click on the profile icon. From there, select Settings from the dropdown menu.
From the left side of the menu, you will want to click on Advanced Settings. After doing that, select Delete Channel to begin the process.
You will be asked to enter your Google password, so please go on ahead and get it done. Moving forward, hit the button that says Next, then click on I want to hide my content.
A few checkboxes will come up that requires action on your part to confirm that you understand what will happen after hiding your channel. Finally, click on the section that says Hide my content, and that's it.
2] How to delete your YouTube Channel
Maybe hiding your YouTube channel is not enough, so we are going to discuss how to get rid of it once and for all. Before moving forward with your plan, just now that deleting your channel means you will lose all videos, comments, playlists, and history for good.
Statistics about your channel will reside, but such data will not be directly linked to your deleted channel.
In order to delete the channel, you must first go to YouTube and click on the profile icon, then navigate to the Settings area from the dropdown menu that appears.
The next step to take is to fire up the Advanced Settings section that is located at the left side of the menu. From here, you will want to click on Delete Channel, but it does not end there.
YouTube will ask for your Google password to move forward, so be sure to add that and hit the button that says Next. Top it off by selecting I want to permanently delete my content.
To complete the process for good, please click the checkbox to confirm to Google that you are sanctioning the deletion of your account, then finally, select Delete my content, and that's it for deleting your YouTube channel.
3] Can you delete your YouTube channel from mobile?
As it stands right now, it is not possible to delete your YouTube channel in any form via the mobile app. However, it can be done from the browser, and the process is the same as laid out above.
4] How to delete your Google account for good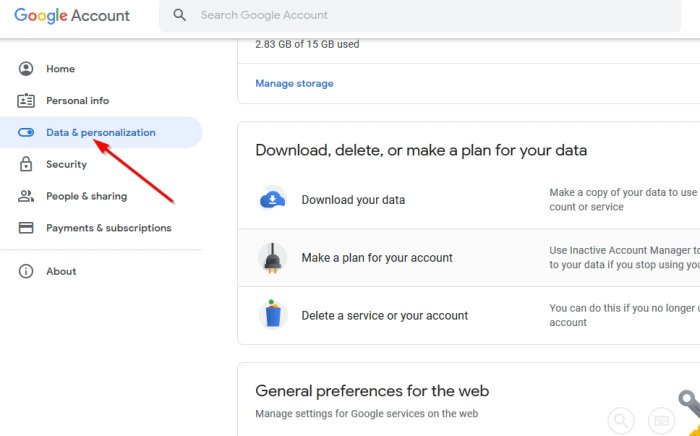 While your YouTube account is essential, it is not on the same level as your Google account because all other services from the search giant fall under your Google account. If the account is removed, then everything else goes with it.
Deleting your Google account is considered a nuclear option, so be careful. There is no going back after taking the jump down this rabbit hole.
Go to google.com and make sure you are logged in. Now, select the profile icon and click on Manage your Google Account to move on to the next step.
After doing all of that, please choose Data & personalization, which is located on the left side of the menu. Under the section that says Download, delete, or make a plan for your data, please choose Delete a service or your account.
Click on Delete your account, then hit the Next button after typing your password into the available field. Google will ask if you want to Download your data, so please select the option before jumping ahead if that is important to you.
Finally, check the checkbox to confirm that you understand the ramifications of your actions, then complete the task by clicking on Delete account, and that's it, you're done.
We do not recommend deleting your Google account at this time, but if you have to, then do what you must.