It's not easy to become a YouTube Influencer. It might look easy and sound fun, but it asks for a lot. Be it Instagram, Facebook, Twitter, or YouTube, becoming an influencer requires one basic thing: dedication. You can become one if you want to. I have already written a post on how to become an influencer on Instagram, and today, I will talk about how to become an influencer on YouTube.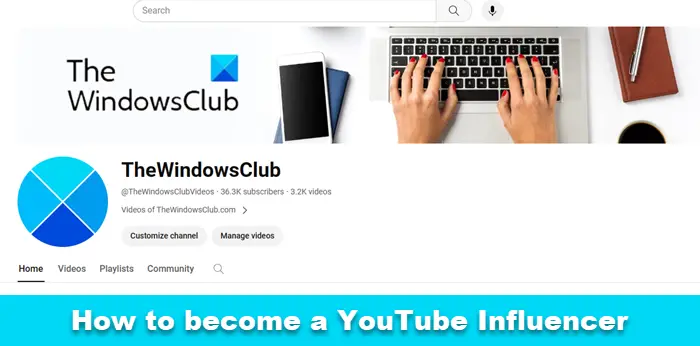 YouTube is the future, the reason being that people today prefer watching videos more than reading the content or checking out the pictures. Videos have gained huge popularity across the globe over the past few years. Also, creating a YouTube channel, shooting videos, and editing is easy now like never before.
There are millions of YouTubers all across the globe, but not everyone is making millions of dollars. I have a YouTube channel with 45000 subscribers, but I am still not making the kind of money I would like to. I am trying to learn more so as to make the most out of it, and I will share all I know here in this post.
How to become a YouTube Influencer
Well, if you want to become an influencer on YouTube and make money, you have to keep certain things in mind-
Pick your niche
Create and decorate your channel
Produce quality content
Thumbnail
Plan your content strategy
Optimize your content
Talk to brands.
1] Pick Your Niche

Some particular niches like tech, fashion, beauty, and health are considered to be lucrative, but again, what all matters is what you are good at. Pick the niche where you believe you can deliver quality content. Do thorough research before you select your niche, check your competitor's channels, and try to learn how it works. Just knowing the topic is not enough. You should know how to convert your topic into an interesting video. When I started my YouTube channel, all I knew were the lady's kitty parties, and thus, I picked it as my niche, and to my luck, I was the first one to pick that niche. I am now trying to broaden my niche and add more categories, though.
Once you decide on your niche, create a YouTube channel. You can check this free guide to learn how to create a YouTube channel and other YouTube tips and tricks.
2] Create and Decorate Your Channel
Creating a new YouTube channel is no rocket science. You just need a Google account, and you can sign in to YouTube. Click on 'Upload video' and you will get a prompt to create a channel. Select your username, and you are good to go. The next important thing is to decorate your channel with good and relevant channel art. Use some good graphics for the channel art and make sure it is relevant to your channel and content. My channel art is not great, and I will soon get a new one. Also, do not forget to add a good introduction to your channel in the 'About' section; this helps your users know you and your channel better.
3] Produce Quality Content
Yes, content is the king. Create good content, not for Google, but for the users. Try Producing useful content; this will increase your credibility among the users, and they will visit your channel regularly. Google, too, loves good content, and once your content starts getting indexed, there is no look back. Here, we are talking about becoming an influencer, so you can influence people only when you are really good at it. Thus, it is very important to produce content that is convincing. Influencers have great power, and great power always comes with great responsibility; your followers are following you. Thus it's your duty to give them value.
4] Thumbnail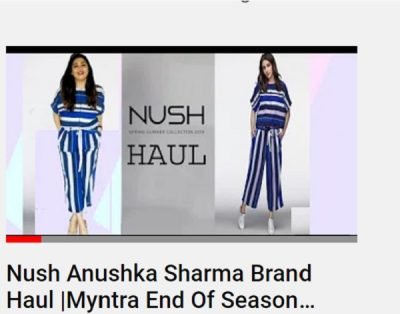 The thumbnail is very important. This is something that gives an instant idea of what your video is about. Make sure you create a good thumbnail for every video. You can use clickbait to get more clicks and views on your video.
5] Plan your content strategy
There is no fixed template for content strategy. Not every strategy works for everyone, and as far as I know, it is all about trial and error. You have to check various strategies and settle upon the one that works. For me, uploading a new video every day works the best; it might not be the same for you, though. Because I think it is an overcrowded market and we have to produce more and more content to get noticed, actually frequency is important.
6] Interact and build community
It is always very important to interact with your followers, be it any social media platform. It's the audience/fans/followers/subscribers who make you the influencer, so interact well with them. Ask them questions and what they want to see more on your channel and follow it. Reply to their comments and try solving their doubts, if any.
7] Talk to brands
Once your channel is ready with a good number of videos and subscribers, start contacting the brands and pitch your profile. Select the brand suited to your niche and contact them via email. Let them know that your audience might be interested in their products. Initially, you have to agree on the barter terms, but once you have a good subscriber base, you can charge a good amount for showcasing their products on your channel.
These are the few things I followed to become an influencer on YouTube, and I hope it will help you.
Do leave your comments below if you have some more points to add.
Read next: