When it comes to the topic of editing/writing or creating documents, many of us prefer Microsoft Word over other editing software and the reason can be the long time exposure or preference over others. We have come across various articles in our lives that help us in understanding the application more and more. We might not know that there is a solution for every problem we deal with while editing our documents in Microsoft Word. In this article, we will learn how to quickly delete multiple paragraphs in Microsoft Word.
If you are familiar with documentation then you know how painful it can be while editing a document when you have to keep editing similar items in the whole document. These changes can be changing font sizes for multiple paragraphs without changing the font size for their headings or changing the default template for the whole document. Today we will learn how to delete multiple paragraphs of similar styles using two methods. You may be surprised how different styling methods can be used for different purposes too.
Delete Multiple Paragraphs in Word
Before we start with these methods there is one thing we need to understand that is we need such a document that follows a consistent styling of paragraphs and headings. It is required because when we read any article or document, we look for the headings first and then continue with the paragraph below it. For this, we need to use annotations at the beginning of every new section. The basic idea is to use Subtle Emphasis for the Annotations and a normal style for the remaining body of the document.
Both of the methods mentioned below might not work on the browser edition of Microsoft Word.
Remove paragraph using Styles pane in Word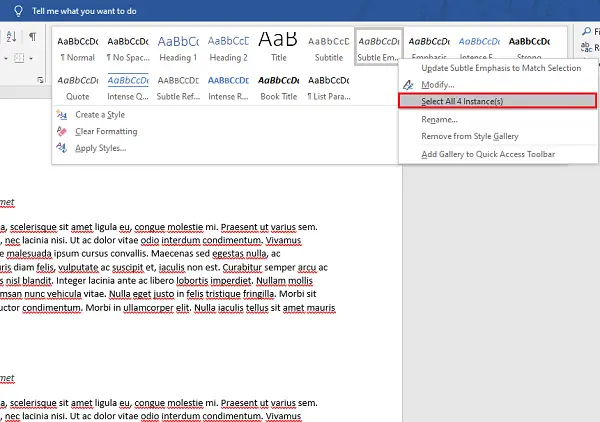 The gallery of styles in Styles Pane comes with a number of different paragraph styles. To use it for deleting multiple paragraphs, follow the steps below:
Place the cursor in front of the line from where the changes have to be done.
Right-click on Subtle Emphasis style.
Click on Select all instances.
Once all the similar instances are selected, click on Delete button of your keyboard.
This method is useful and easy to use, one thing that we need to keep in mind is that the paragraphs should be of similar style and proper annotations are applied.
Remove paragraphs using Replace in Word
There is a very little chance of annotation style's unavailability in the style gallery. If it is the case with you then you can use this method for the similar purpose.
Press Ctrl+H, the Find and Replace window will open up.
Click on the More button.
If it happens that you have created a different type of styling or used any then click on No Formatting.
In the Search Options section, select All in the Search dropdown.
Now click on Format and select the Style option.
In the list of Styles, scroll down and search for Subtle Emphasis. Select it and click on Ok.
Make sure that Find what and Replace with entries are empty.
Click on Replace All.
Once you click on Replace All, all the similar paragraphs will be removed from the document.
These are the tried and tested methods, please let us know what you think about these methods in the comments below.
Now read: How to use the Changes features in Word for tracking changes or comments.