If you have upgraded to or installed Windows 10 Home on your computer and would like to upgrade to Windows 10 Pro edition to test or try it, then things have become easier. Microsoft has made available for all default product key for Windows 10 Pro that anyone can use to upgrade his or her Windows 10 Home to Windows 10 Pro, for free, right away. The OS will upgrade, but your copy of Windows 10 Pro will not be activated.
How to upgrade from Windows Home to Pro free
Says Charles of Microsoft,
From your Windows 10 Home running Version 1511, enter the Windows 10 Pro Default key under change product key. VK7JG-NPHTM-C97JM-9MPGT-3V66T  This default key will not activate the system, just take you to Pro so you can activate using a valid Pro key that you will provide. Once you have done this, the system will go through an upgrade process from Home to Pro, but will not be activated on Pro.  You can now enter your Windows 8 Pro key into your Windows 10 Pro system and it will activate.
The way to do this is as follows:
Open Settings > Update & Security Activation Change Product key. Enter this product key in the provided space:
VK7JG-NPHTM-C97JM-9MPGT-3V66T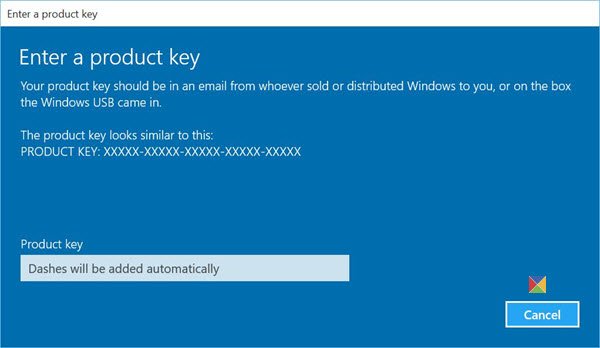 Your Windows 10 Home will get upgraded to Windows 10 Pro. But your copy will not be activated.
You can use your Windows 8 Pro key to activate it or you can buy a product license key and enter it to get it activated. Clicking on the Go to Store button will take you to the Windows Store, where you can complete your purchase.
Once you have done this, you can check your Windows 10 activation status.
This is all the information that is available about this.
Read next: How to downgrade from Windows Enterprise to Pro edition.