This article lists down the best free DBF file viewer software that enables you to view files with the .dbf extension on Windows 10 PC. Before talking about the viewers, let's discuss what is a DBF file.
What is a DBF file?
A DBF file is basically a database file used by the dBASE database management application. Like any database file, it also stores and organizes numerous records and fields in an array data structure. This file format is supported by various database products including xBase programs, Visual FoxPro, Clipper, FoxBase, etc.
Now, to view a DBF file on Windows 10 PC, you need a dedicated program or one that offers support to this file format. Here, I am going to mention 5 software that you can use to open and view a DBF file on your Windows PC. Let's check them out!
Free DBF File Viewer software for Windows 10
These are the free DBF viewer software you can use on Windows 10:
DBF Viewer Plus
DBF Commander
LibreOffice
WPS Office
OpenOffice
Let's discuss them in detail!
1] DBF Viewer Plus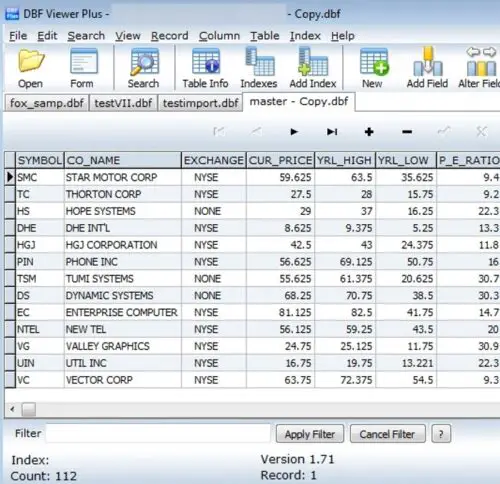 DBF Viewer Plus is a dedicated software to view DBF files on Windows 10. It lets you open a DBF file and view the saved records. You get some handy features in it to view a DBF file including Search option, Form View, Enlarge, Table View, etc. It also lets you apply various filters to query data as per your requirement.
Not just viewing DBF files, it can also be used to edit and update records and fields stored in them. To do that, it offers features like direct editing, insert table (type: xBase III, xBase IV, xBase VII, FoxPro), add new fields, delete fields, and more. Besides that, you get an Export function that lets you save a DBF file in other formats including CSV, WKS, TXT, PDF, RTF, XML, and HTML.
All in all, DBF Viewer Plus is a DBF file viewer with the ability to edit and convert DBF files.
2] DBF Commander (Free)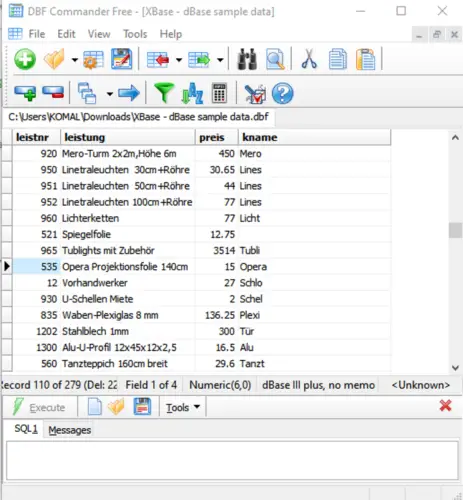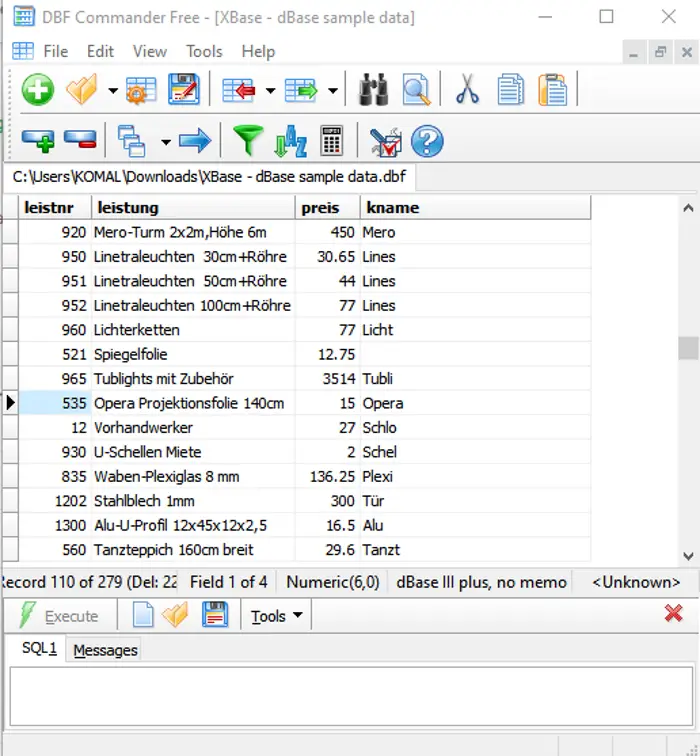 DBF Commander is a free software for Windows to view DBF files. It provides both commercial and free versions; make sure to download the free edition from the aforementioned link.
It is a good dBASE file viewer that lets you view DBT and FPT memo database files too. It comes with view features like find, sort, apply filters, mark column, hide column, go to record, go to field, etc. Furthermore, you also get some editing features in this software, like Append/ Insert Record, Delete Record, Delete Fields, Recall Record, Pack Table, etc. So, you can also modify and update a DBF file using it. A Print feature is also available in it.
Some features of this DBF viewer are only available in its pro version. You can use it for free with limited viewing and editing features the ones mentioned above.
3] LibreOffice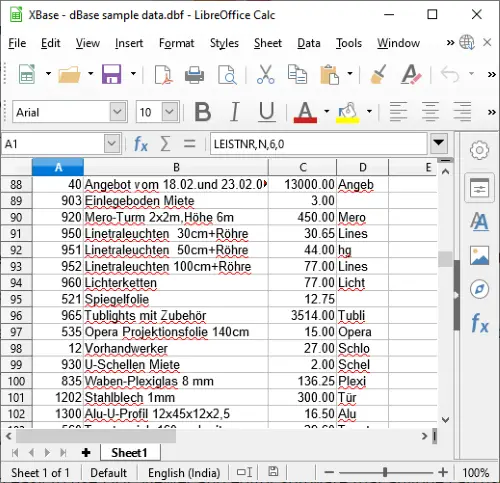 LibreOffice is a free and open-source office suite that comes with the LibreOffice Calc application. You can use this application as a DBF file viewer as it lets you import and view DBF files.
You can also edit DBF files using it by adding a new record, inserting fields, removing existing fields, deleting selected records, etc. It even lets you export a DBF file to several other formats like CSV, XLS, XML, etc. It also provides data sorting, filters, pivot table, formulas, calculate, charts, and more features.
Read: How to convert DBF to Excel (XLSX or XLS).
4] WPS Office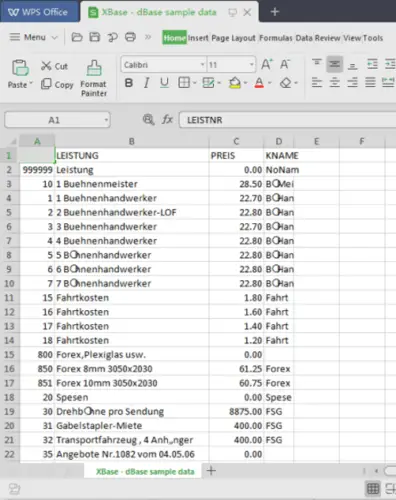 WPS Office is a free office suite using which you can view DBF files on Windows 10. It comes with different office modules (document, presentation, spreadsheet) out of which you can use the Spreadsheet one to view a DBF file. Simply open a DBF file and it will display the records and fields in the spreadsheet. You can use zoom, fullscreen, split view, and more options to view data.
You can also use it to modify a DBF file like directly edit records, add new fields, insert new data, remove fields, etc. Also, you can convert a DBF file to XLS, CSV, XML, HTML, ETT, XLT, and a few other formats using it.
5] OpenOffice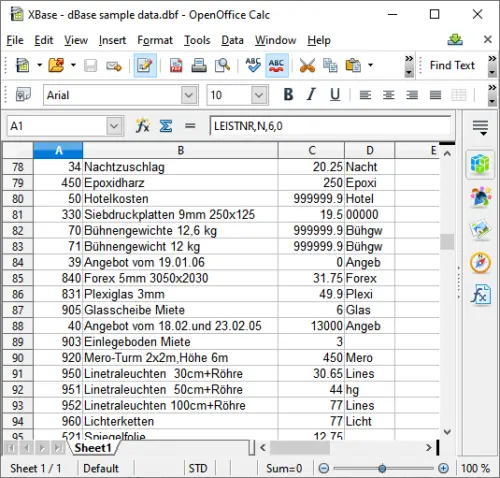 OpenOffice is another alternative to a free DBF file viewer for Windows 10. It is a popular office software with applications to process documents, spreadsheets, presentations, and more. You can use its OpenOffice Calc (spreadsheet) application to view a DBF file. It lets you view data sources, highlight values, use zoom tool, and open a navigator to view different elements.
In it, you can find data sort, filter, validity, consolidate, pivot tale, and more features. It also allows you to edit records using insert, delete, modify, and format tools. If you want, you can save a DBF file in ODS, XLS, CSV, HTML, DIF, and more file formats. A feature to export DBF to a PDF file is also available in it.
You can also use these software to edit and convert DBF files to other formats.