Want a capable media cataloger and organizer in your library of utility apps? Then maybe Data Crow is just the right thing for you. It is a very powerful and open-source software for Windows PC.
Data Crow for Windows review
The app is perfect for delivering metadata information for songs, movies, video games, and more. The app started out as CD Library, but things quickly changed when the developers began to drift away from just a single primary feature to several.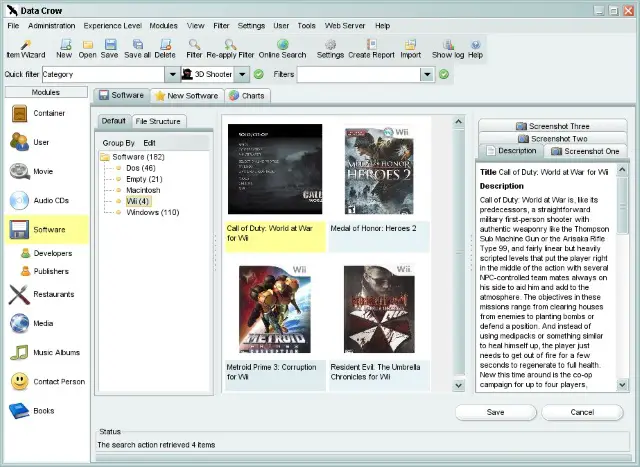 Because of that, the name CD Library became obsolete, and the name Data Crow was born.
Data Crow uses Internet services such as IMDB, Amazon FreedB to collect all the necessary information and bring them the forefront for user consumption. The app is platform-independent and very comfortable to use. We've been using it for days so this is not an exaggeration.
Collecting information on any piece of supported software is easy as counting 1,2,3. Hey, even if are unable to count well, you should still be able to use Data Crow like a professional with mad skills.
Registering a software is easy as simply inputting the name into Data Crow, and watch as the app draws the information from all its sources. It is even easier with audio files. Just browse to the directory that contains the specific audio files, and Data Crow will provide all the necessary information needed.
Media cataloger and organizer freeware
Let's talk about some of the features. We say some because there are many.
At the moment, the app supports parsing for DivX, Xvid, ASF, MKV, OGM, RIFF, MOV, IFO, VOB and Mpeg video. There is also an SQL query tool for those expert users out there, and also an HSQL database.
The interface is easy on the eyes, and as we've stated above, very easy to use. This means novices will feel right at home without feeling confused. Furthermore, Data Crow is highly customizable, and that is something many users, especially advanced users would enjoy.
Overall
Data Crow is a powerful app that does more than what we expected it to do. Being open source is a big plus, and even more importantly, the app is easy to use. We haven't come across any problems, but we should point out the download size is about 80MB.
Data Crow can be downloaded from the official website.
Random read: Tips on how to choose a Mobile Printer.