Creating animated GIFs has been never so easy! Out of all the applications in the market, which help you convert images into animations, GiftedMotion is the most efficient freeware I've come across. Often, we put features and functionalities in an application, but, if we look at it, what's the point of having 50 odd features, when you know how to use not more than even 10 out of them. Now, that's quite unreasonable, isn't it? What rules for me is a simplified tool, which does the job quickly for me and with the least complications.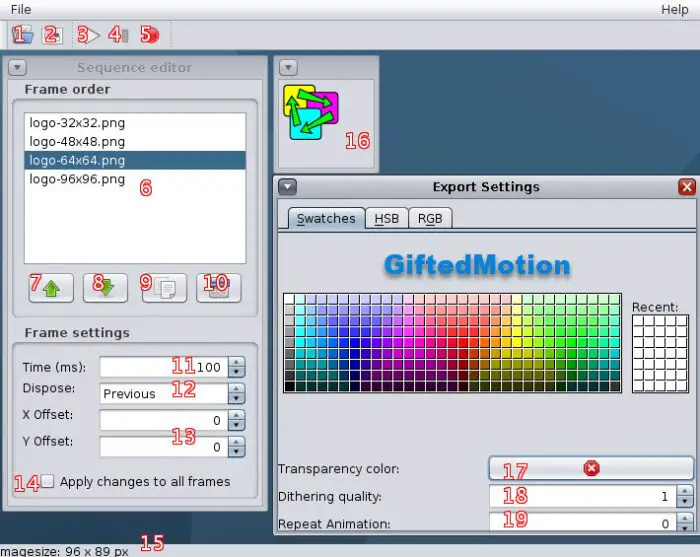 Create animated GIF
GiftedMotion is that kind of application, which saves both your time and money. With its easy-to-use controls and comfortable GUI design, it's a must-have for GIF users. Most importantly, Gifted Motion is absolutely free and contains no hidden costs at all. You don't need to test this software, nor have to register or buy any full version of the application. Gifted Motion can be downloaded from the link given at the end of this post, and there is also no installation required. Simply, download the jar file and save it locally on your PC and run it directly from there.
Features of GiftedMotion:
•    GiftedMotion is totally platform-independent and runs on every Operating System
•    It has Multi-language Support.
•    It's a GPL Software, with no Licensing costs
•    There is no installation required. Simply, download the jar file on your PC and run it.
•    Extremely small in size
•    Formats supported: .png, .jpeg/.jpg, .bmp and .gif
•    The user can easily adjust the image position within the frames of the image output. It also has image preview functionality.
GiftedMotion review & tutorial
Let's now look at a simple step-by-step process of the usage of this efficient software, with the help of screenshots:
1.    To insert the images, to be combined to form a GIF, simply click on the File button the menu bar and then click on load (Shortcut: Ctrl+L).

2.    Next, select the images you want to add and by pressing Ctrl, you can select multiple images and then click on Open. GiftedMotion also helps you preview the image while selecting.

3.    Change the order of the images by simply clicking the up & down arrow buttons, as shown in the screenshot:
4.    You can also change the position of a frame (image) by simply dragging it. Like, in this case, my image is left-aligned and I want to bring it to the center, just like all the other ones.


5.    Next, change the animation time. As per the requirement and check the box of Apply changes to all frames to modify the changes in all frames, altogether.
6.    Finally, to save the animation, select File from the menu bar and then Save as GIF animation.
GiftedMotion free download
You can download GiftedMotion by following this link.
Microsoft GIF Animator, AnimatedGIF, Make GIF Video Capture may also interest you.