If you are creating two different Sway presentations but realize the content of one Storyline is more suited for the other, you can easily copy its content to the desired Storyline. This, however, is not as easy as it appears to be. You need to follow few steps in sequence. This guide will help you walk through the process and copy-paste cards in Microsoft Sway.
Copy and paste cards from one Sway to another
Microsoft Sway allows its users to duplicate the text, images, media, or styles in any of their existing cards to another. This can be useful in situations where you would like to speed up the process of creating additional content within the same Sway.
Sign into sway.office.com.
Select the check-box at the bottom of the card.
Use Ctrl+C shortcut.
Switch to the Storyline where you want to paste the copied card.
Press Ctrl+V to paste the content.
To remove Sway content, go to Sway.office.com/my page.
Choose and delete the content.
Let's see the steps in detail.
Duplicate cards in Microsoft Sway
Sign in to sway.office.com and open the Sway content you would like to edit.
Move the mouse cursor in the lower right corner of any card, you want to copy.

You should see the checkbox there. If seen, check the box.
Now, to copy the card (or cards) that you've just selected, take the following action,
Press Ctrl+C on your keyboard.
Switch to the content where you would like to paste the card.
Go to the location in the Storyline where you would like the selected card to appear.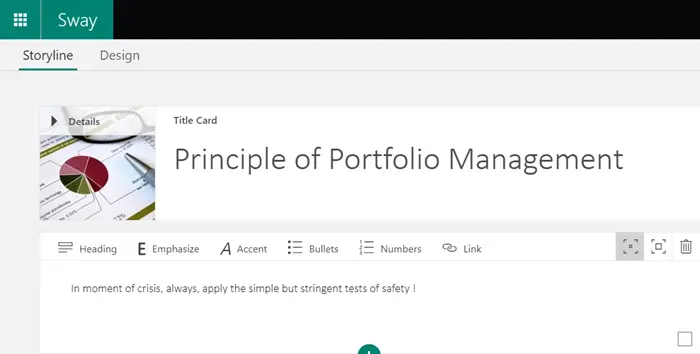 Press Ctrl+V to paste the content.
If required, you can select multiple cards at once and duplicate their content.
Remove Sway content altogether
Go to following page – Sway.office.com/my
Check the list of Sways you've created under the 'My Sways' section of the page.
If you are editing a Sway content, simply switch to the Sway button in the upper left corner to go to Sway.office.com/my page directly.
Choose the Sway content you'd like to remove or clear from the page.
Discover more available Sway options.
Click 'Move this Sway to the Recycle Bin' (visible as a trash can).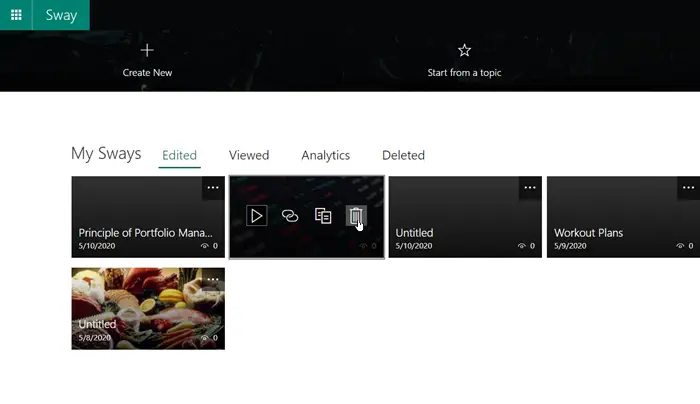 Press 'Yes' to delete when prompted.
That's all!
Read next: How to Search and add Content to Microsoft Sway.