If you have an old Audio CD, but you cannot copy files from your CD to your PC because the audio CD is showing a 1 KB shortcuts only, then you can follow this tutorial to get the job done. You do not need to use any third-party software since Windows already has the essential tool to extract audio from a CD.
If you are trying to copy all the original files from a CD to your computer, you cannot do that since it can show a 1 KB shortcut for each file. You can play the audio when the CD is inserted, but you cannot copy them directly.
How to copy a file when the Audio CD shows a 1 KB shortcut
To copy files when an audio CD is showing a 1 KB shortcut, you need to follow these steps:
Insert CD and open the classic Windows Media Player
Select the audio and use the Rip CD option
Find the audio file in the Music folder.
To get started, you need to insert the audio CD into your computer. When your computer has detected the CD, you need to open Windows Media Player. In the Windows Media Player, you have to select the audio CD from your left-hand side. Now you can find all the music on your screen.
Now you need to go to Rip settings > Format and select MP3.
Also, you can tweak the audio quality. For that, navigate to Rip settings > Audio Quality and choose something accordingly.
After that, you have to select all the files that you want to export. For that, make a tick in the respective checkbox. After completing this step, click the Rip CD button.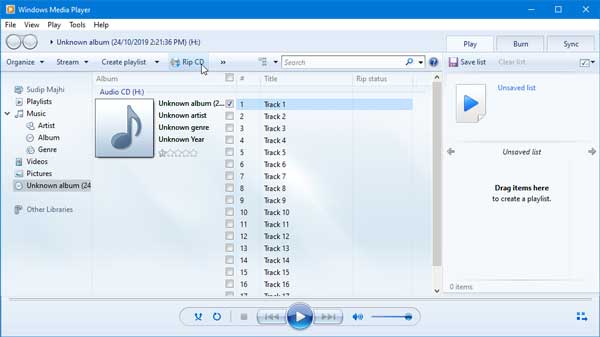 It should show a progress bar. If Ripped to library appears as the Rip status, you have to open the Music Library folder. This is the default location when Windows Media Player saves the ripped files, and you can find your data in this folder if you didn't change it earlier.
How do I copy an audio CD?
You need to use the Rip option to copy an audio CD. No matter whether you are using Windows 11, Windows 10, or any other version, you must make use of the Rip option to get the job done. However, the problem is that the option is included in the Windows Media Player Legacy. That said, if you do not have it on your computer or removed it anyway, you cannot use the method mentioned above.
How do I rip a CD to MP3?
You can use the Windows Media Player to rip a CD to MP3. You can find a Rip CD option after opening it via Windows Media Player. In the Ripping settings, you need to choose the MP3 option from the Format section. Following that, you will be able to choose the quality from the Audio quality menu.
That's all! I hope this simple tutorial will be helpful for you.
Reads that may interest you: