GIMP is a powerful tool, and this is well known. It might not be on the same level as Photoshop, but that is fine because GIMP is both free and open source, therefore, the need to spend a ton of money goes right out the window.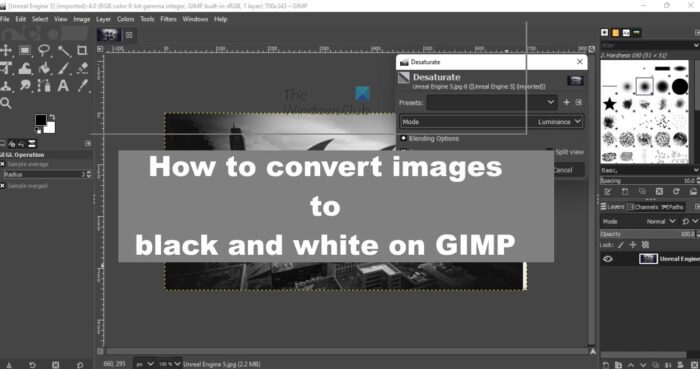 Now, as we've stated before, GIMP is powerful, which means, it is not hard to convert images to black and white. Today we will look at the best three ways to convert colored photos to black and white. Each solution differs from the other, as expected, but most importantly, they work.
How to convert Images to Black and White on GIMP
If you want to convert color Images to Black and White on GIMP, then please follow one of these methods:
Use Grayscale mode to turn images into black and white
Make use of the Desaturation feature
Adjust the image via the Channel Mixer
1] Use Grayscale mode to turn images into black and white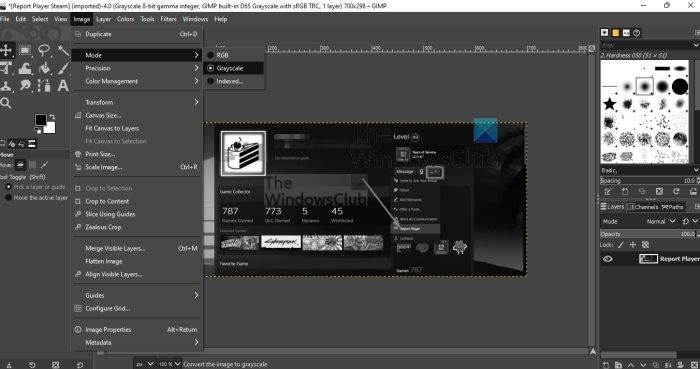 One of the easiest ways to transform your colored photos to black and white is to enable grayscale mode. By default, images added will open in RGB mode, but the option is there to change it to grayscale, so let us talk a little bit about how to accomplish that.
Open the GIMP app.
From there, press File tab.
Use the option from the dropdown menu to add a photo.
Once the colored image is added, please click on the Image tab.
After that, you must select Mode from the dropdown.
You should now see three options.
They are RGB, Grayscale, and Indexed.
From that small list, choose Grayscale.
Right away your photo should be converted to black and white. You can now save it to your computer if you're pleased with the outcome.
2] Make use of the Desaturation feature
You'll notice that when grayscale is used to add black and white to a picture, there aren't many options to determine the intensity of the color. This is where desaturation comes into play because it comes packed with versatility.
To begin, please add the relevant image.
From there, add a layer to the photo.
Next, you must click on the Colors tab.
From the dropdown menu, click on Saturation.
A small window should now appear.
Use the Scale feature to determine the intensity of the black and white shade.
If you want, you can use presets already saved, or save your own presets for future use. Whenever you want to access your saved presets, simply click on Colors > Desaturate, then Desaturate again. Choose the presets from the pop-up window, and that's it.
3] Adjust the image via the Mono Mixer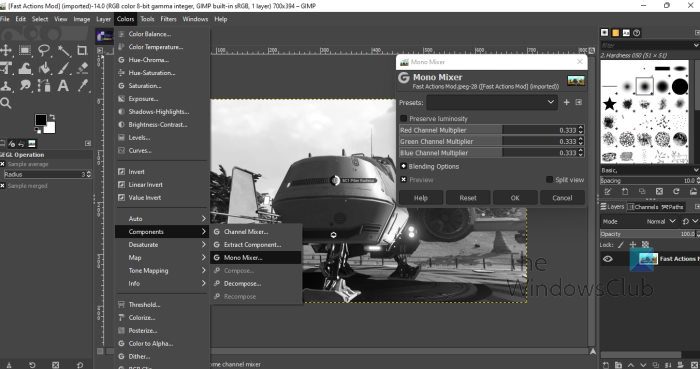 The final solution to transforming your colored photo to black and white is to use the Mono Mixer. This is a simple feature, one that is more flexible than the others we've mentioned here, and that is because it allows the user to customize almost every aspect of the image.
Folks who want more control over what they're doing must make use of the Mono Mixer, and we're going to discuss how.
Open the image in GIMP.
The next step, then, is to click on the Colors tab.
A dropdown menu should now be visible.
Go to Components and hover your mouse over it.
From there, select Mono Mixer.
Right away the image should turn into black and white.
Also, a small window will open.
From this window, you will see several RGB channels that can be used to change the tone of the photo. If you want more control then we suggest taking advantage of Channel Mixer over Mono Mixer.
READ: How to use the Enhance filters in GIMP
Is GIMP a good photo editor?
Out of all the free image editors available right now, GIMP is by far the best. It is the only free photo editor that can compete with Photoshop, though it is not as easy to use when compared to what Adobe is offering.
What are some of the disadvantages of GIMP?
GIMP is great quality, that's for sure, but it is not perfect. You see, it is not possible to select multiple layers, or add effects to editable text. Furthermore, users are not able to export images optimized for the web without a plugin. Additionally, the GIMP tool is known for crashing from time to time, and that's a dealbreaker for many professionals.
Can GIMP do everything Photoshop can?
No, the GIMP image editing tool, while very powerful in its own right, cannot hold a candle to Adobe Photoshop where features are concerned. This is because Photoshop has the backing of a multi-billion dollar company while GIMP relies primarily on contributors.