Windows 7 re-energizes application control policies with AppLocker, which is a flexible, easy-to-administer mechanism that allows IT to specify exactly what is allowed to run in the desktop infrastructure and gives users the ability to run applications, installation programs, and scripts that they require to be productive. You can thus, now control which applications and software you want to allow to run on your Windows 7 using the in-built new AppLocker tool.
AppLocker in Windows 7
To access this feature, type gpedit.msc in Start search and hit Enter to open the Group Policy Editor.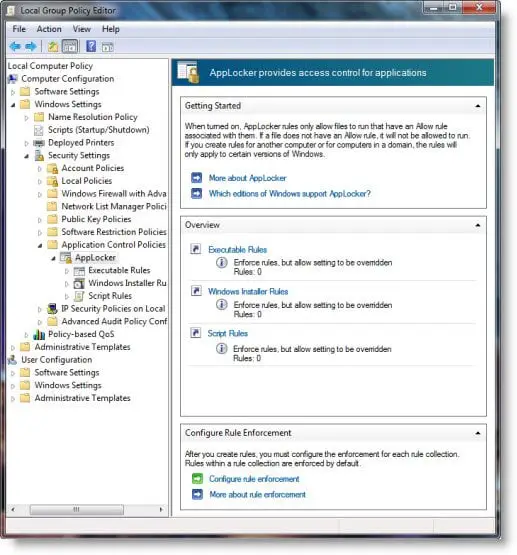 In the left side pane, expand Computer Configuration > Windows Settings > Security Settings > Application Control Policies.
Select AppLocker.
Here you can configure Executable, Windows Installer  & Script Rules. Right-click and select Create New Rule.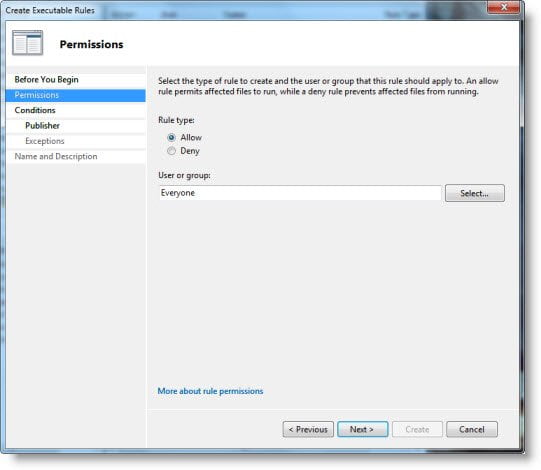 You can then create a rule allowing or denying access to an executable based on such criteria as the file path or publisher.
Windows 10 users can see this post on how to use AppLocker in Windows 10.
The AppLocker in Windows 10 allows you to also create rules for Packaged Windows Store apps. Moreover, the Windows 10/8 AppLocker rules can also additionally control the .mst and .appx file formats.