If you're the type of person who manually starts or stops a specific service in Windows 10, then you want to check out a tool called ServiceTray. It is a free tool that allows you to start and stop a Windows Service from the system tray on your Windows 10 computer.
ServiceTray lets you start and stop a Windows Service
Now, we understand that many advanced users tend to make use of the Windows 10 built-in service management tool, Services.msc, and that's fine. However, if you are looking to do things more quickly ServiceTray is one of the best options.
One of the main reasons we've come to enjoy using ServiceTray is the fact that it makes it super easy to determine which service to monitor. We're going to talk more about this aspect of the tool in a moment.
Select the service to monitor
Choose your icon
Decide where you want the shortcut to go
Create the shortcut
Run and stop service
Time for us to get down to the bottom of this application
1] Select the service to monitor
After opening ServiceTray for the first time, you will be required to choose the service you wish to monitor from a list. Simply click on the dropdown menu that sits next to Monitor This Service, then select the one that makes sense for you.
2] Choose your icon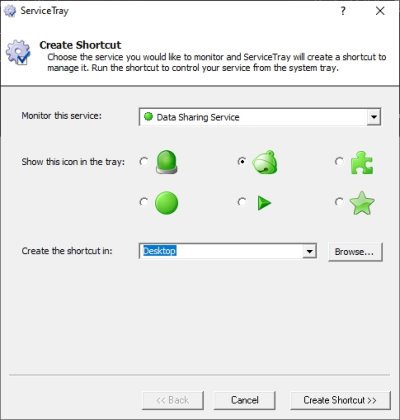 The next step you will want to take here is to select the icon you want to show up in the System Tray. At the moment, there are only six icons, which means, if you plan on creating more than six shortcuts in the future, then icons will overlap.
3] Decide where you want the shortcut to go
When it comes down to creating the shortcut, the tool doesn't automatically decide for you, and that's a good thing. You see, you can choose where to have the shortcut show up, which is super easy.
Simply navigate down to the section that reads, Create the shortcut in. From there, click on the dropdown menu, and select either Startup or Desktop. If those options are now good enough, then click on the button that reads, Browse.
Find where you want the shortcut to go and select it.
4] Create the shortcut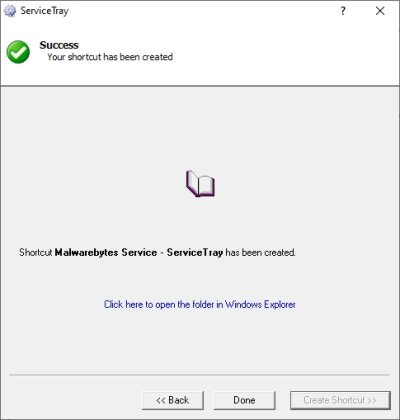 OK, so the final thing you will want to do here is to click on the button below that says, Create shortcut. Wait for ServiceTray to do its thing, which only takes a few seconds, and right away, your shortcut should now be visible at your chosen location.
5] Run, Stop, and Restart the Service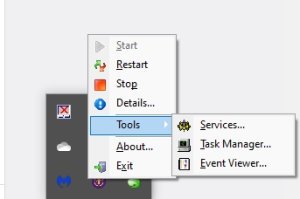 When you're done, you can go on ahead and open the shortcut. A small icon will appear on the Taskbar, so keep that in mind because it is important.
To stop the process from running, right-click on the icon then select Stop, Start, or Restart. There is even an option to get more details on the running process.
Additionally, clicking on Tools should showcase Services, Task Manager, and Event Viewer. Select whichever one you want to use.
You can download ServiceTray from its homepage right now.
TIP: You may want to take a look at Advanced Windows Service Manager too.