In today's world, malware has become smarter and smarter. So as users, apart from installing security software, we have to be proactive and search for better defenses again them. I have reviewed a lot of security-related software that do a specific task. Advanced Windows Service Manager is a similar tool. It is only designed to check any security threats buried under Windows Services. So let's talk about what sets this tool apart from the built-in Windows Service Management Console, as well as other similar software.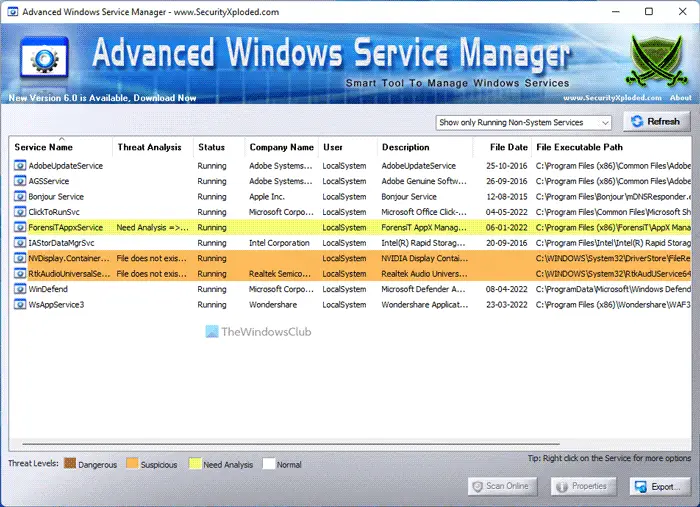 Advanced Windows Service Manager
According to the developers, the tool is equipped with detection of Malicious or Rootkit Services, Automatic Threat Analysis, Service Filter mechanism, Integrated Online Virus or Malware Scan on so on. So you may think – why does Malware want to pose as a normal service? The main reason is that when malware pretends to be a Local Service it can get the highest privilege and can cause more damage to your system.
The tool includes a nice little feature to Scan Online, which will cross-check with online virus databases like Virus Total, Process Library, Google etc., and give us more accurate results. With this online scan feature, you really can reduce the false-positives rate.
I'll list the features that this application offers according to the developers.
Smarter Detection of Hidden Malicious/Rootkit Services
Sophisticated Auto Analysis
Online Malicious Service Scan
Service Filter Mechanism
Color-based Threat Representation
Sort Feature based on the threat level
Right-Click Context Menu for quick actions
Advanced HTML/XML Report
Fully Portable
The usage of the application is very simple. You just need to open the application with administrator privileges, select the type of services from the Selection box and click on the Refresh button. Now you will find the services classified as Dangerous, Suspicious, Analysis, or Normal in different color codes.
You can right-click on the service and choose to Start or Stop Service, Enable or Disable Service, Online Scan, View Properties, etc. You could also export an HTML/XML Report.
You can download Advanced Windows Service Manager from here.
What is Advanced Window Manager?
Advanced Windows Service Manager is a program which helps you check for various running services on your computer. It is compatible with Windows 11, Windows 10, and some other older versions of Windows. You can find all the services, background processes, tasks, etc., with the help of Advanced Windows Service Manager.
How do I get rid of Advanced Window Manager?
If you want to get rid of Advanced Windows Service Manager from your Windows 11/10 PC, you can uninstall the program easily. However, if you want to remove all the leftovers along with the executable file, you need to use software uninstaller tools. For your information, you can use Revo Uninstaller, CCleaner, etc.
You might want to also check out our freeware SMART, a utility for tweaking Windows Services.