Microsoft Visual Studio team has released an updated Visual Studio Keyboard Shortcut Posters.  These posters are print-ready documents, that now support standard paper sizes, and provide nice "cheat sheet" tables that can help you quickly lookup and eventually memorize, common keystroke commands within Visual Studio.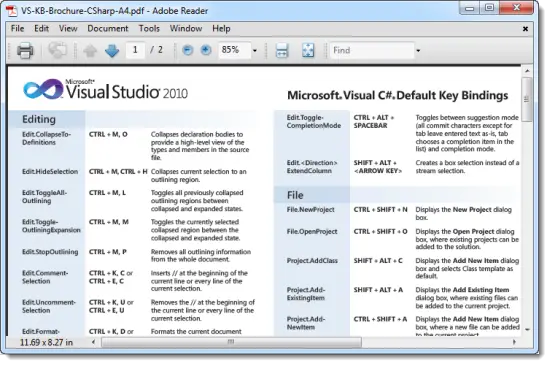 Visual Studio Keyboard Shortcuts
The posters are high-quality, print-ready PDFs in letter & A4 format containing the default keybindings in Visual Studio 2010 for Visual Basic, Visual C#, Visual C++ and Visual F#. High-resolution versions are also available.
Download, print and use to master the default keybindings of your favorite programming language in Visual Studio 2010.
Supported Operating Systems: Windows 10/8/7; Windows Server 2008; Windows Server 2008 R2; Windows Vista.
You can see the complete list on MSDN for the later versions.