PDF tools are quite popular on the web, even though a lot of users might believe Adobe is the only provider. Such is not the case, obviously, and what we're going to do right now is to discuss one of the free PDF tools a lot of folks have no idea is in existence. What we have here is a program known as Combine PDF and its quite powerful for a standalone app that only focuses on things related to PDF.
Combine multiple PDF into a single PDF document
You know, if you're the type of person who wants to combine two PDF documents into a single document, then Combine PDF is one of the best on the market right now. And better yet, its free to use for however long you want. When it comes down to encrypting PDF files for whatever reasons, this tool is also perfect for that. Users can even add watermarks to their PDF if that's what they want. Clearly, we like the features, but is Combine PDF worth your time? Let's look into that, shall we?
Combine PDF freeware for Windows PC
You can easily combine or merge multiple files, into a single PDF document with Combine PDF free software for Windows 10 PC. The first thing users will notice about this tool is the size. It's a little over 12MB in size, and not to mention, the user interface is quite simple and easy on the eyes.
1] Convert Files
OK, so you're ready to merge your PDF files into a single document and wondering how to get the job done with this program. Well, after launching the tool, click on Conversion, then make sure to click on Add Files.
This is where you'll need to add the PDF documents for merging. We're not sure if the tool comes with a limit, but we only added two to kickstart the merge process.
Finally, click on the button that says Merge, then sit back and wait. Processing the documents and merging them into one is fast, but then again, it all boils down to the speed of the computer and the contents inside the PDF.
2] Modification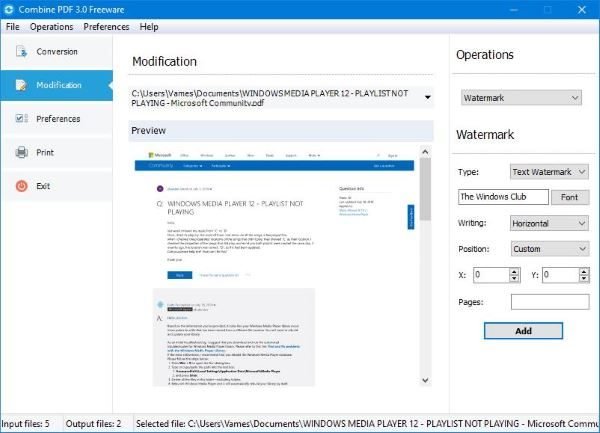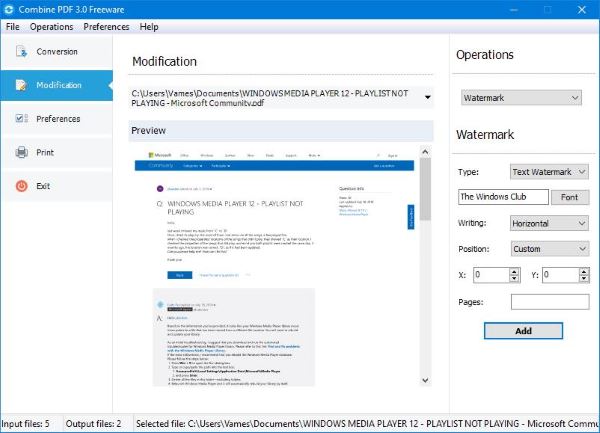 So, are you interested in modifying your files before merging? That's great because that's possible here. Now, one should keep in mind that adding watermarks is not the only way to modify files here.
Users can crop and rotate pages if they so wish. Furthermore, when it comes down to extracting pages, removing pages, and adding encryption, these things can all be done via the Modification section.
Once you've done with your selection, hit the button that says Add. Just give it a short time and wait for the process to complete.
3] Preferences
We stepped into the Preferences section with high expectations but left a bit disappointed. We say that because there isn't much to do here, unfortunately. You see, with all the cool features Combine PDF has brought to the table, the Settings are should have come with quite a few more things.
From this section, the user can change the output folder, language, page units, and more. Now, if you're not pleased with the changes, simply hit the Reset button to return all options to factory settings.
Download Combine PDF right now via the official website – www.best-pdf-tools.com.