The new Cloud Clipboard in Windows leverages Cloud technology. This enables users to sync their texts and files from one Windows 11/10 device to another, so long they prefer using the Microsoft account. However, the syncing feature is not enabled by default. You must enable the option manually in the new Clipboard settings page to access your clipboard history. That said, the Clipboard at times, fails to sync. If you have been experiencing this, try this fix.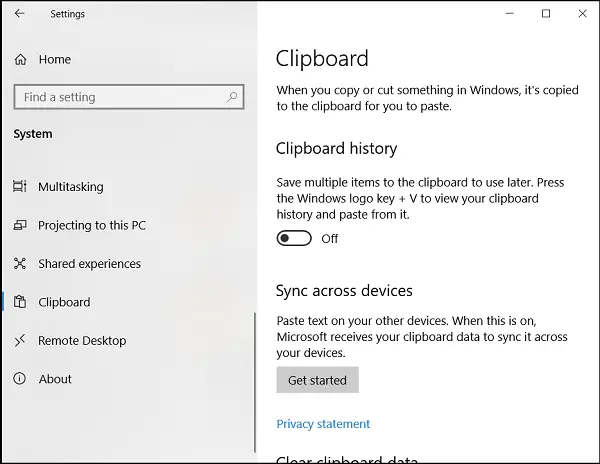 Before you begin, you may want to read this post on how to use the Cloud Clipboard History feature.
Cloud Clipboard History not working in Windows
We will use the Registry method here. So, be careful and proceed further with caution.
Press Win + R in combination to open the 'Run' dialog box. Type 'regedit.exe' in the empty field and press 'Enter'.
Now, navigate to the following and expand the following key:
HKEY_LOCAL_MACHINE\SOFTWARE\Policies\Microsoft\Windows\
Select the System folder.
Click in the empty space in the right pane and make sure registry DWORDs for the following keys are available-
EnableActivityFeed
PublishUserActivities
UploadUserActivities
If the default value is set to '0', you will need to change the value data of each to '1'.
If you do not find these entries in the Registry Editor then, you will need to create one for each. So, right click any empty area and choose New > DWORD (32-bit) value and set up the value data.
Thereafter, simply restart your PC to allow the changes to take effect. Ctrl+V should start working now.
The issue became noticeable when the syncing had stopped and I could still find my activities visible under Microsoft's privacy page in Edge browser. After following the above-mentioned steps, I was able to fix the issue.
Read: How to enable or disable Clipboard Sync across devices in Windows.