Oh, so you found a duplicate Facebook account that shows your profile, but it's not you who created it? Watch out! It could be a cloned Facebook account and your friends could be just one step away from getting cheated.
The only solace here is that cloners can impersonate your account, but not get past your security settings. So, for now, it's still secured and before anyone could be scammed, you should take the right steps. Once you have confirmed that it's a cloned Facebook account, you should either report the fake profile or remove it.
What is a cloned Facebook account?
A cloned Facebook account is a scam where someone creates a copy of the original account using your profile picture. It also includes other details from your account, for example, your Bio, About info, etc., to make it look like the real one. The entire purpose of this is to fool your friends to believe it's the real account and give up their information.
However, it's not exactly hacking because a hacker gains complete control of your actual Facebook account. While cloning is creating a fake profile that closely resembles your original account. Therefore, it's important to be careful while accepting friend requests on Facebook, as this may expose your friend list to the scammer. They can then send them friend requests to grab their details for forgery or other illegal operations.
Here's a short guide for you to find out if a fake Facebook profile, and how to remove, stop or report it.
Has your Facebook account been cloned?
It could be possible that's a legitimate account and the person who owns the profile just shares your name. So, be careful and make sure you double-check the details before you report the account as fake. However, you would know if it's a cloned account when your friends inform you of any suspicious behavior like messages asking for money. So, if you are worried that there's a fake Facebook profile under our name, here are a few ways to find, report, stop, or remove your fake profile.
How to find cloned Facebook account
So, before you report the suspected profile, how do you find out if the it's a fake account? To look for a cloned account, firstly search Facebook by your name. You may find legit accounts with the same name as yours. Therefore, carefully look at the profile photo and the details to make sure it's a cloned account. If any suspicion, contact your Facebook friends to check if they received any friend requests from you and if they added that profile. If yes, then check if they received any message asking them to click on the link to lend money. To learn more about how to manage and control your privacy, you can visit the Meta Privacy Center.
Read: How to create a Test Account on Facebook without email or phone number
How to report and remove a cloned Facebook account?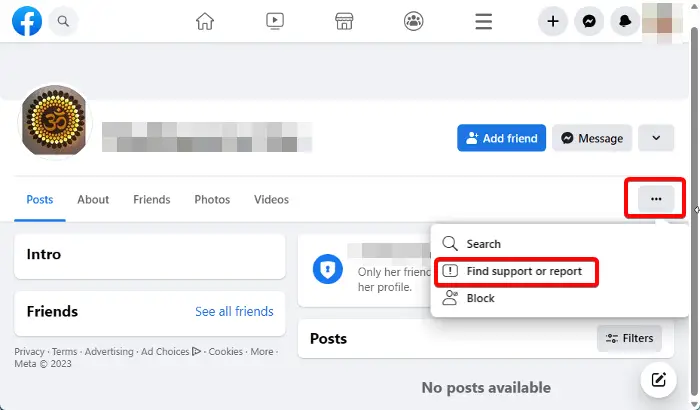 After you find a Facebook profile that you suspect is your cloned account, click on the three dots on the profile and select Report profile or Find support/report. It will now redirect you to the Report page. Here, you would be asked to select the problem of why you are reporting the account. Select Pretending to be someone and then select Me. Finally, you will see the message, Does this go against our Community Standards? Click on Submit. Make sure you refer to the Facebook Community Standards policies for more clarity. Facebook will now review your request and remove the account. However, it takes a few days and hence, it's advised to have patience.
Now, go back to the profile page of the cloned account, click on three dots again, and hit Block. Next, return to your original account and create a post on your timeline requesting your friends not to accept new friend requests from an account that may be impersonating you. Also, request them to ignore any messages that might be scams.
Read: How to check who YOU have blocked on Facebook
How to stop Facebook account cloning
While there's no foolproof way to stop account cloning, you can take certain preventive measures like sharing minimum details on Facebook. At the same time, make sure that you change your Facebook account privacy settings or simply lock your account. For example, on your Facebook profile page, go to Friends, click on the three dots above the friend list, and select Edit privacy. Next, in the Edit Privacy window, change the privacy settings for each option. For example, set them to either Friends or Only Me. so that no one else except you or your friends can see your account info.
You can also customize the Privacy Settings of your account by making them more private. Click on your picture on the upper right side > Settings & Privacy > Settings > Privacy > Privacy Settings and Tools. Now, you can control who can see your Future posts, who can see the pages and lists you follow, who can see your birthday or relationships, who can send you friend requests, and more. You can set the options to either Friends or Only Me. Or, you can click on your picture on the upper right, select Settings & Privacy, and click on Privacy Checkup. Now, follow the guide by Facebook to enhance your account privacy and prevent it from getting cloned.
Above all, make sure you do not accept friend requests from people you don't know or do not share a connection with. You may message the person and verify if it's the right profile before you send a request.
How do I delete duplicate Facebook accounts?
If you have accidentally created another account or it was just a test Facebook account, you can delete this duplicate account any time later. You can either use this guide to delete your Facebook account permanently, or simply visit this page to directly Delete your duplicate account. Or, you can follow this Facebook guide to remove the duplicate account through Accounts Center.
What happens when you report a Facebook account as fake?
Once you report a suspected cloned account as fake, Facebook will review the request and this may take a few weeks to get resolved. So, wait patiently till they investigate the matter based on their Community Standards and notify you about the resolution. Your report is kept confidential and the account you report is not informed who reported them.