Facebook has taken a center-stage in a new privacy and data security debacle. An analytic company Cambridge Analytica was found guilty of collecting the personal details of Facebook users and then using the same to sway votes in favor of a political party. Further investigation has revealed that several political parties have been availing of the service. Facebook stocks have tanked sharply due to this debacle, and the company has also lost a fair share of the market cap. In the wake of the recent privacy issue, most Facebook users are bidding permanent adieu to the once-popular platform. In the recent past, Facebook has been aggressively targeting users with ads, and this is perhaps one of the causes for the furor.
In this post, we explain how to delete Facebook account permanently, how to temporarily deactivate the Facebook account, and how you can download all the data Facebook has on you from Facebook servers before deleting your profile. If you are sure that you don't want to use Facebook again, then deletion is the best way out. Furthermore, it is better than deactivation since you won't be tempted to reactivate your account.
Delete Facebook account permanently
Before you go ahead and delete your Facebook account think twice. Since Facebook has been helping you connect with friends and family over the last couple of years, it is quite possible that you have a lot of photos and memories. Once you delete the account, it is impossible to get it back. In a nutshell, the deletion process is irreversible.
In order to delete your Facebook Profile permanently, head over to this link.
Click on "Delete My Account".
Please remember that the entire deletion process will take up to 90 days.
No one will be able to access your profile during the deletion process.
Also, make sure that you don't log in during the deletion process since it will reactivate your Facebook account
Before you decide on deleting your Facebook profile, I would personally recommend deactivating it temporarily. With the deactivating feature, Facebook will still be storing your data, and the same will reappear once you reactivate. I would suggest using the deactivation feature before you take the plunge and delete the Facebook account altogether.
Wondering how to deactivate your Facebook Account? Don't worry we got you covered.
Read: How to completely delete yourself from the internet
How to deactivate Facebook account temporarily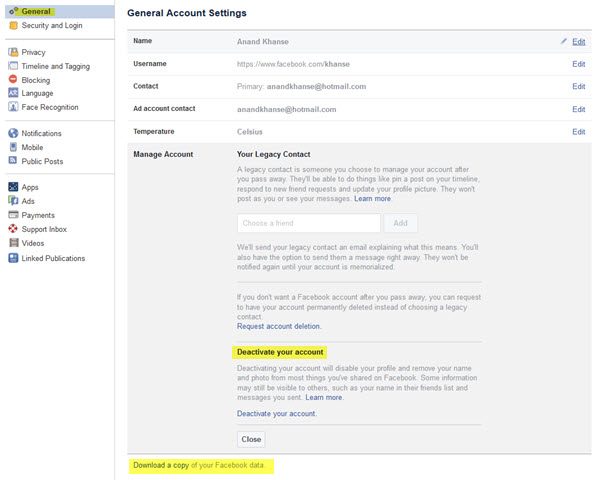 Click on the account menu at the top of the Facebook page from your web browser.
Select "Settings".
Head over to the "General" section.
Click on "Manage your account".
Click on "Deactivate your account" and then confirm the action.
How to download Facebook Data before deleting the account
If you have finally decided to delete your Facebook account once and forever, this is what you should do. Facebook is offering a download feature that will allow you to download all your Facebook data from the day you started using it. The download includes all your pictures and other data that might be useful in the feature. That being said, make sure that you are using a fast WiFi connection since the download can easily run into several GBs.
Check out the steps below to download your entire Facebook data.
Click the account menu on any Facebook page
Click on the "Download a copy of your Facebook data" This option is below your General Account Settings.
Choose "Start my archive".
Please ensure that you store the data in a secured place since it will contain all your personal details.
Let us know if you have decided to take the step of deactivating or deleting your Facebook account.