If you want to delete your Facebook Page permanently then this post will show you the way to do so. The only requirement is that you must be the administrator of the page.
Facebook is probably the largest social networking website, and it allows you to create a Page, Group, etc. for your business. Managing your brand's Facebook page is quite easy as long as you follow the official guidelines. A Facebook page lets you get more engagement on your website, and as a result, you can make more sales in a short time. If something is not going in the right direction and you need to take down a Facebook page, here is what you need to do.
Whether your page is new or ten years old, you can perform the same steps to remove it from Facebook. As mentioned earlier, you must be the administrator of the page. In case you are a moderator, you cannot delete the Facebook page. Before getting started, you should know that you cannot revert the change once it is done. In other words, you cannot get back your page if you delete it.
How to delete a Facebook Page permanently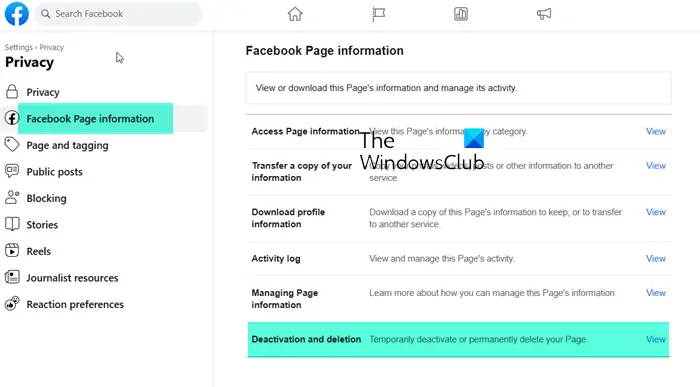 To delete a Facebook Page permanently that you administrator, follow these steps-
Log into your Facebook account
Open the Facebook Page that you want to delete
Click on your profile icon in the top right corner
Click Settings and privacy
Click Settings
Click open Facebook Page information
Click on View against Deactivation and deletion

Select Delete page to delete the page right away
Select Deactivate page to temporarily deactivate the page

Click on Continue and confirm the change.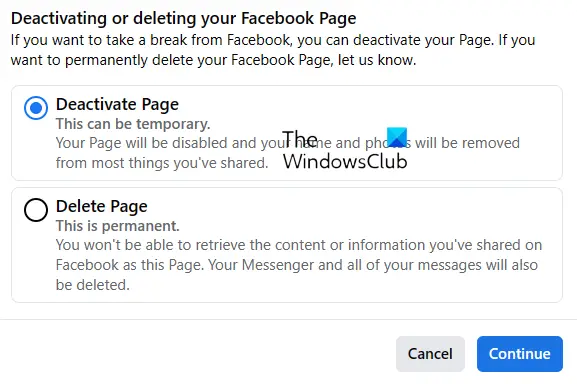 You can also directly click here to visit the page.
If everything goes right, you should see a Page deleted message on your screen. Once you click the OK button, you can see the Pages window from where you can manage the rest of the pages.
How to cancel deletion of Facebook Page
To cancel your Page deletion:
From your main profile, click your profile photo in the top right of Facebook.
Select Settings & privacy
Click Settings.
Click Privacy in the left menu
Click Your Facebook information.
Next to Reactivation, click View.
Click Reactivate next to the Page to reactivate it and cancel the deletion.
Related read: How to permanently delete your Facebook Account.