If you want to test something on Facebook, but are afraid of using your account, here is a simple solution made by Facebook. You can create a Test account on Facebook to try different things virtually – but it does have some limitations. Do follow the entire article to know more about the Facebook Rest account.
What is a Facebook Test Account
A test account helps users test different things on Facebook without using their real account. Let's assume that you are a security researcher and you spend your time finding bugs or vulnerabilities on Facebook o. In such a case, you can create a test account without having any separate email ID or phone number. You only need a regular account which you must be having already. These test accounts cannot be detected by the fake or spam account detection system of Facebook.
What are the limitations of a test account
Although it comes with advantages, you might need to know about the limitations as well-
You cannot connect to any standard Facebook account. However, you can connect with other test accounts.
You can post on your wall, but it is not possible to do the same on any page's wall.
You cannot join any group made by a typical account holder.
In case you want to convert it to a real user account, you cannot do that.
You cannot use this account to sign up on any website. More information about that is mentioned below.
Facebook would set the name and you cannot change it. But you can change the order of your name.
It is possible to use a username, but you need to verify your phone number.
Create a Test Account on Facebook
Log into your Facebook account and then visit this page. Click on the Create New Account button.

After that, you should find a popup containing a name, user ID, login email and password. You can copy this information somewhere else and use that login email and password to sign into your Facebook account.
In case, you want to reset the password, open the same page where you can manage all test accounts and hit the Reset Password button.
As mentioned earlier, you cannot use this test account to sign up on any website. If you try to do that, you will end up getting an error message like this-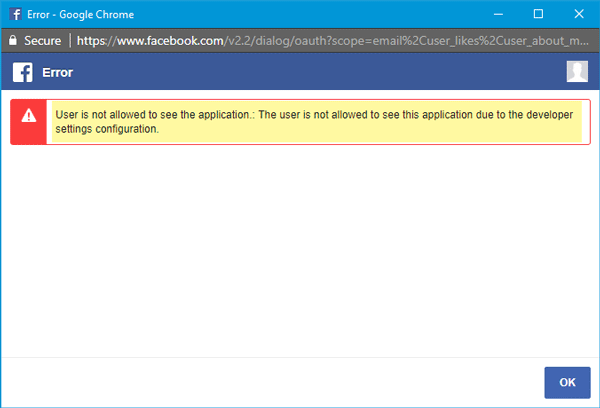 Hope you find this feature useful.