Despite the many issues faced by the social network, Facebook, is still the platform of choice for billions of people. Therefore, one should always make sure there are multiple ways to recover an account should unforeseen things happen.
Facebook offers Trusted Contacts account recovery feature that allows you to select 3 to 5 of your trusted Facebook friends you could reach out to, if ever you needed to recover your Facebook account. If you were to forget your Facebook password and couldn't get into your email account to reset it, then it is these Trusted Contacts that would be able to get you in.
In such an eventuality, Facebook will send the codes directly to friends. You can enter the codes given by your trusted contacts, to access your account. You will need to collect 3 separate security codes and enter them, in order to access your Facebook account.
Recover Facebook account with help of Friends & Family
Facebook uses traditional account recovery methods, but they may not always work. It all depends on the situation, which is why the social network has provided a new option for users to add trusted contacts.
The idea behind trusted contacts is for users to permit a selected group of people to rescue their Facebook profiles if they are blocked from logging into their accounts.
If you want to add a trusted contact, then bear in mind that it can only be done via the web. So, make sure you are an owner of a Windows 10, Mac, or Linux device. Furthermore, be sure to have installed a modern web browser.
Open Facebook in a web browser
Visit Settings & Privacy
Select Security and Login
Setting Up Extra Security
Let us discuss this from a more detailed perspective.
1] Open Facebook in a web browser
Launch your modern web browser of choice, then from the URL bar, please type the official Facebook URL, then hit Enter, or just visit directly from this link.
2] Visit Settings & Privacy
The next step is to navigate to the Settings & Privacy area. Do this by clicking on the downward arrow button at the top-right of Facebook, then choose Settings & Privacy from the dropdown menu. From there, be sure to click on the Settings option to move on to a new page.
Read: What to do when Facebook Account is Hacked?
3] Select Security and Login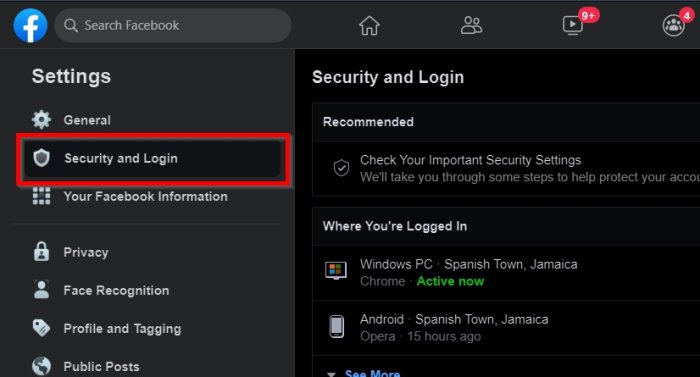 After loading the new section, you will want to click on Security and Login right away. From this area, you should see several options pertaining to security and recovering your account.
TIP: This post will show you how to recover a disabled Facebook Account without stressing yourself.
4] Setting Up Extra Security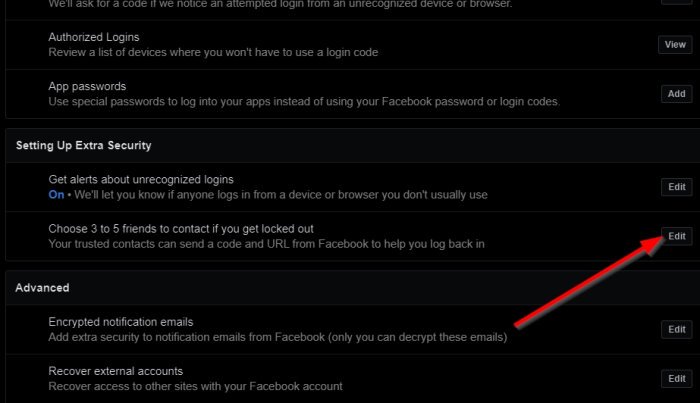 Scroll down until you come across Setting Up Extra Security. Below it, look for Choose 3 to 5 friends to contact if you get locked out, then select the Edit button beside it over to the right. From here, choose three to five friends from your Facebook account, and that's it.
Once you have set up your trusted contacts, if you ever have trouble logging in, you'll have your trusted contacts as a recovery option. Select that option and call your trusted contacts and let them know you need their help to regain access to your account. Each of them can get a security code for you with instructions on how to help you. Once you get three security codes from your trusted contacts, you can enter them into Facebook to recover your account.
While on the subject, you might want to check out how to securely log in to Facebook.