Online video editors have made the multifaceted task of video editing a lot easier. Many people believe that online video editing tools do not have advanced video editing features, but it's not true. Today, there are powerpack online tools available which do not demand heavy software installations, but just one good browser and a smooth internet connection (for online video editing and uploading/downloading videos) – like Clipchamp online video editor.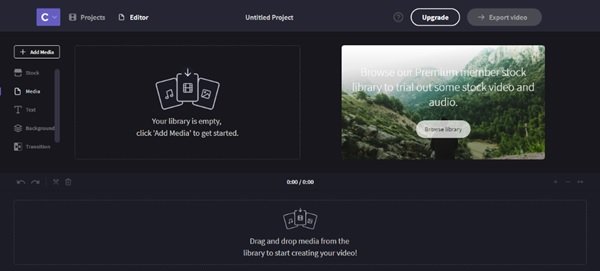 Clipchamp online video editor is a free Google Chrome browser extension that adds a handy video utility app for your Windows PC right on your web browser. In simple words, the user doesn't need to leave their browser to edit, convert, compress, or record a video.
Clipchamp online video editor Chrome extension
Clipchamp online video editor is a free to use (with user sign up) online tool for video editing, compressing, and converting. It has in-built privacy and sharing that truly simplifies the entire process of video editing. This is an all-in-one video solution tool that allows the users to convert or compress videos into smaller size files in just no time and no loss in quality.
Clipchamp online video editor helps in recording videos from the user's webcam in 360p, 480p, and 720p and then saves them to their Google Drive. Videos are recorded in the mp4 format, which is a standard format that plays on any device or system. It works with the user's system's built-in camera and microphone and with the external ones too. Furthermore, with Clipchamp, users can upload and share files much more easily, processed videos can be saved and uploaded directly to YouTube, Vimeo, Facebook, or Google Drive.
Highlights of Clipchamp online video editor
Here are some important features of Clipchamp online video editor:
It protects user privacy by processing videos on the system and not online
It is an HTML5 video recorder, involves no Flash
It allows users to record videos with an in-built webcam in 360p, 480p, and 720p
By default, it converts video to MP4, but can also convert to FLV, WebM, and WMV.
It supports PowerPoint and other Microsoft applications by converting the videos to WMV format.
It saves videos to users' personal Google Drive accounts.
It completes faster YouTube, Facebook, and Vimeo uploads by compressing the video into a smaller size before the upload, without compromising quality.
It converts the video's playback smoothly on common devices like smartphones, tablets, Windows PCs, and Chromebooks.
Clipchamp Online video editor supports a huge range of input formats (3GP, MOV, MKV, DIVX, M4V, AVI, MP4, FLV, ISO, WMV, MPEG, MPEG-4, and many more)
Its free video editing features include trimming, rotating, cropping, flipping, and adjusting brightness, contrast, and saturation.
It saves network bandwidth and lengthy upload times
It offers batch input file queuing
Clipchamp Online video editor works on Mac, Windows, Linux, and Chrome OS.
How does Clipchamp online video editor work?
Using Google Chrome's cutting-edge capabilities, Clipchamp extension app works directly on the user's computer. Hence, users don't need to download any software or slow upload files to other 3rd parties online video converting/editing platforms. This process protects user's privacy and confirms their files are never uploaded to a 3rd party website unless they independently decide to share them. In addition to this, Clipchamp converts videos much faster than any online video converter.
The preconfigured output settings in this tool don't complicate things. The output formats are MP4, WebM, FLV, WMV and GIF; and the resolution options are 240p, 360p, 480p, 720p, 1080p.
The speed of conversion or compression depends on the size of the input file, type and codecs, the choice of output and quality settings and how powerful the user's computer's processor is.
Follow this step-by-step guide to start using Clipchamp online video editor
1] Install Clipchamp
Go to the Chrome Web Store and install Clipchamp.
Click "Add App" to add the extension to Chrome Browser.
2] Launch Clipchamp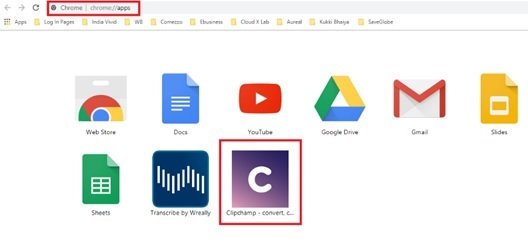 Users can launch the app from the Web Store or the Application Launcher.
3] Login to Clipchamp account
To start using Clipchamp, users need to log in or sign up. The website allows the users to sign in using their existing Facebook or Google Accounts or sign up.
4] Start creating videos
Once logged in, users can start creating videos by clicking "Create a Video".
5] Start editing
To get to the main app page, users will first need to "Select Dimension" for their videos and click "Start Editing".
6] Adding media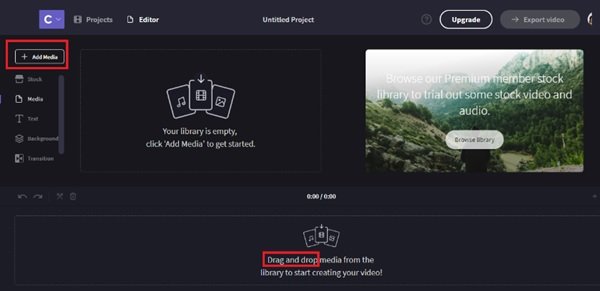 Users can add media by clicking on the "Add Media" section, or simply drag and drop.
7] Using Clipchamp utilities
To "Create", "Compress", or "Record Video" users can directly go to "Clipchamp Utilities".
The following window opens when clicked on Clipchamp Utilities tab.
8] Managing your videos
"Your Projects" section organizes the users' work and helps them manage and keep working on their previous works. Users can easily search for their work or pick up from the most recent ones.
Final Thoughts
It is very easy to begin using this great online video utility tool. And the best part is that you don't have to leave "Chrome" or launch heavy software that could bring down your system speed or crash often while you are working on important videos.