A Network engineer knows the importance of a good Networking Simulation Tool. Cisco Packet Tracer is one such tool that has ruled the Networking market for ages. But it is not the only tool in the market, that's why in this article, we are going to see some of the best Cisco Packet Tracer alternatives.
Cisco Packet Tracer Networking Simulation Tool
Cisco is a giant in the Networking space. Its Packet Tracer has ruled the market for ages and looks like will continue to do so.
With the help of the Cisco Packet Tracer, one can create both simple and complex circuits that can be used to replicate the real-life scenario. So, now you can implement your plans and test if the circuit is efficiently working or not without spending a penny on the hardware.
It has all types of wires be it fiber, coaxial, etc. It consists of most of the modern Cisco Routers, Wireless Devices, WAN Emulation, and many other devices that you need to create a circuit.
Another advantage Cisco Packet Tracer has over apps is that it is the very application that is used during CCNA certification training.
Cisco Packet Tracer free alternative software
Some of the best free alternatives of Cisco Packet Tracer are
Graphic Network System 3
NetSim Network Simulator
EVE-NG
Omnet++
Let us talk about them in detail.
1. Graphic Network System 3
GNS3 or Graphic Network is one of the best Cisco Packet Tracer alternatives. It has all the bells and Wessels like Cisco Packet Tracer that means that it consists of plenty of tools such as ASA, ATM Switch, Ethernet Hub, Ethernet Switch, and many other devices.
It works on all three major platforms, Windows, Mac, and Linux, and helps the user in creating a virtual environment with devices of the same caliber to match the real world. Because of this, you don't have to make a physical circuit without knowing that it's working.
You can download the application for your respective operating system from their official website.
2. NetSim Network Simulator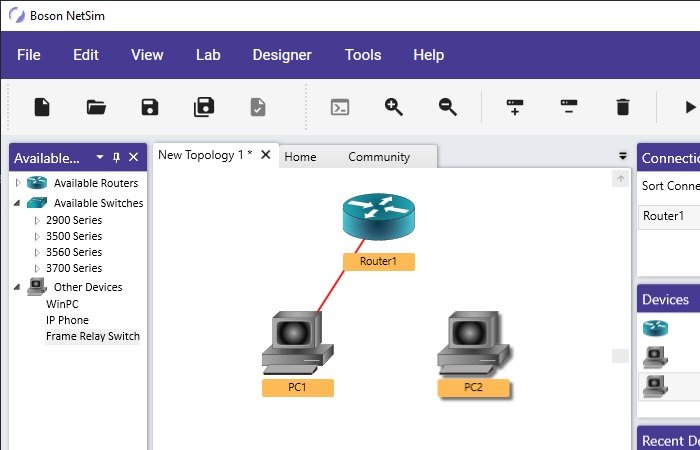 The next free application on our list is NetSim Network Simulator. It is a simple application that can be installed on Windows PC to design a networking circuit.
It is mostly used for research and development as you can design a replica of a physical circuit without spending a penny. They have all the essential tools such as routers, switches, WinPC, IP Phone, Frame Relay Switch.
NetSim Network Simulator can be downloaded from their official website.
3] EVE-NG
EVE-NG is heavy software, coming at 5.1 GB it is different from all the other software mentioned in this article.
It has a full HTML 5 UI, click and play topology, the ability to transpose real network to virtualization, and many more.
However, just like Cisco Packet Tracer, you can create a topology by using its wide range of devices.
You can download EVE-NG from their official website.
4. Omnet++
Last but not the least, we have Omnet++. It is an open-source network simulator built on top of C++ for Windows, Linux, and MAC OS.
There are a lot of things present in this one software but we are here to talk about its network-building tool. You can add devices by either writing them yourself or just dragging and dropping, the latter is what makes it a Cisco Packet Tracer alternatives.
It has many different devices such as routers, switches, fiber, etc. One of its exciting features is that it can be built to test the new 5-G infrastructure.
Omnet++ can be downloaded from their official website.
Building a network with physical devices can be a bit jarring and expensive at the same time. That's why we have Cisco Packet Tracer and its alternatives. These are the applications on which you can make a virtual network circuit check if it's working and then construct the conclusive network to be efficient. Hopefully, this article has helped you in finding the best Network Simulator tool for your networking needs.
Related: Fix Cisco AnyConnect error Connection attempt failed.