Did you receive error 1603 and 0x00000643 on Windows when installing or updating Chrome on Windows 10/8/7? While most of the error can be resolved by simple troubleshooting but for these errors we have specific solutions.
Chrome error 1603 & 0x00000643
1] Run Microsoft Install and Uninstall Troubleshooter
The Microsoft Install and Uninstall Troubleshooter can fix the following issues on a Windows computer:
Corrupted registry keys on 64-bit operating systems.

Corrupted registry keys that control the update data.
Problems that

Prevent new programs from being installed.
Prevent existing programs from being completely uninstalled or updated.
Problems that block you from uninstalling a program through Add or Remove Programs (or Programs and Features) in Control Panel.
Right click on the downloaded MicrosoftProgram_Install_and_Uninstall.meta.diagcab, file and run it with admin privileges.
It will offer you two scenarios to troubleshoot – Installing or Uninstalling.
To resolve the current errors, select Installing.
Next, it will reveal you a list of available programs on your computer. Select Google Update Helper from the list, and click Next.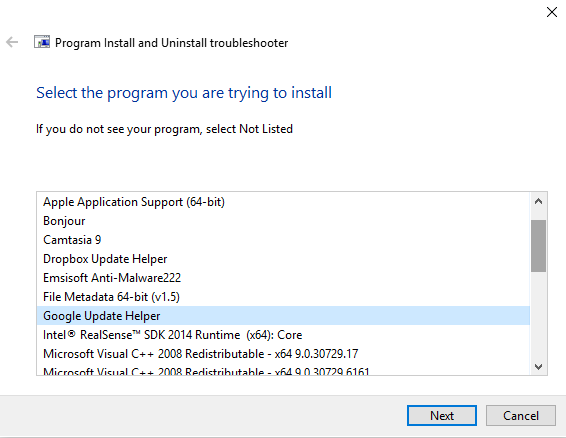 It will start troubleshooting and apply fixes for you. It can offer you to uninstall Chrome if its the root cause. Post this; you will have download Chrome again, and reinstall it.
2] Clean Reinstall Chrome
Sometimes programs leave files behind post-uninstallation. The same happens for Chrome. Before reinstalling,  you will have to make sure that you delete the User Data folder.
Open run prompt (WIN+R)
Type %LOCALAPPDATA%\Google\Chrome\User Data\ and hit Enter.
Rename the 'Default' folder inside it to something else, e.g., Default.old
Now install Chrome again, and see if the issue still exists.
3] Run Chrome Cleanup Tool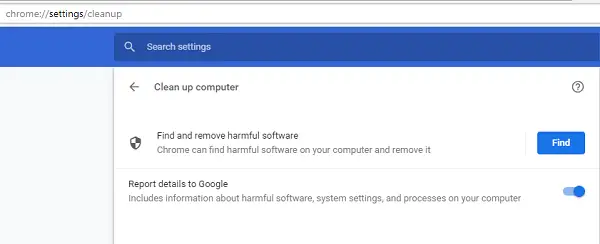 Chrome comes with an inbuilt malware scanner. Run Chrome browser's built-in Chrome's Malware Scanner & Cleanup Tool. It helps you remove unwanted ads, pop-ups & malware, unusual startup pages, toolbar, and anything else that spoils the experience. These malware crash websites by overloading the pages with memory request.
4] Other suggestions

Make sure you have a working internet connection. You can run the network troubleshooter to make sure of it.
If the default installer does not work properly, you can install using the standalone installer.
Lastly, check your Firewall settings. Make sure that URLs tools.google.com and dl.google.com are not blocked. These are the sources from where the inbuilt updater of Chrome downloads new updates automatically.
Let us know if this helped you to fix the Chrome Errors on Windows.