Windows 10 going forward will only offer a 64-bit version. It means you need to have 64-bit hardware to install a 64-bit OS. However, there are many computers still running on Windows 10 32-bit OS, and there is a chance that they may be able to upgrade to the 64-bit version. The upgrade will not attract any new license cost if the existing license is genuine. In this post, we will share how you can check if you can upgrade to 64 bit Windows 10 on the same PC.
Advantages of upgrading to 64-bit Windows
Before you go ahead and upgrade, let's figure out what you will gain.
Increase RAM from 4Gb to up to 2 TB of RAM if rest of the hardware supports it
While 32-bit programs can run easily on 64-bit PCs, vice-versa is not possible. So upgrading opens up access to applications which only work on 64-bit.
Better performance as you can run more apps simultaneously without any lag.
Heavy-duty work like video rendering, file conversion takes less time.
Check if you can upgrade to 64 bit Windows 10 on same PC
It is possible that consumers may have got a 32-bit version installed, as it was more popular then, even though they have 64-bit hardware or even 64-bit compatible hardware. The 64-bit OS needs an x64 based processor. As long as you have the x64-based processor, you should be able to install the 64-bit version of the OS.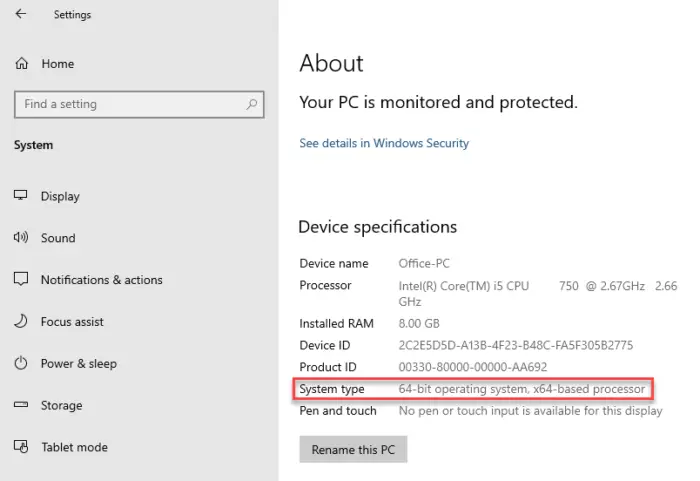 How to check OS-Architecture of your Windows 10 PC
Press WIN + I to open Settings.
Go to System> About
Find out what is mentioned next to System Type.
To check if your computer is 32 or 64-bit Windows 10, you can use the Control Panel System Properties to figure it out. Based on this, look at the table below, and figure out if you can upgrade.
| OS-Architecture | Upgrade Status |
| --- | --- |
| 64-bit operating system, x64-based processor | You are already running 64-bit Windows 10 OS |
| 32-bit operating system, x64-based processor, | You can upgrade to 64-bit OS |
| 32-bit operating system, x86-based processor, | You cannot upgrade to 64-bit Windows 10 OS |
You will also need to check if you have at least 2GB RAM. It is the minimum requirement for Windows 10 64-bit OS. Apart from this, you will also need to figure out of the rest of the hardware is compatible with the 64-bit version of the OS.
Lastly, sign-in with a Microsoft account so the existing license can be linked to your account. You will need to sign-in using the same account once the upgrade is complete.
How to upgrade from 32-bit OS to 64-bit OS?
Unfortunately, upgrading from 32-bit to 64-bit calls for a clean installation. You will have to reinstall almost everything. It also means it is important that you take a backup of existing files.
Download Windows 10 Media Creation Tool and create a Windows 10 Bootable USB media drive
Make sure to select x64 (64-bit)  as the architecture when offered the option.
Select the same version of Windows 10 which you have on the existing computer
Once the setup is complete, sign-in with the same Microsoft account so the digital licenses can be activated.
Related read: Difference between 64-bit and 32-bit Windows – Advantages and Benefits