Changing your YouTube profile picture is possible if you know how to do it. A lot of people after logging into YouTube for the first time have never attempted to change their password, which is quite odd, but understandable at the same time.
Change your YouTube profile picture
Had the folks at Google made the ability to do so much easier, then chances are most people would make the changes without an issue. You see, when changing the profile image, users will be forced to exit the video platform, and therein lies the problem. We will be explaining how to get the job done by using your web browser via a Windows computer. The task will be done from both YouTube and Gmail.
To change your YouTube profile picture:
Click on Manage your Google Account
Click Upload photos
Select a photo from your computer
Click Set as profile picture
Alternatively, you could also do it via Your Photos or Gmail. Let us discuss this task in deeper detail.
Click on Manage your Google Account
OK, so the first thing you should do here, is to open your web browser and visit YouTube.com. From there, be sure to click on your profile photo and select Manage your Google Account.
Add your photos
OK, so the next step is to click on the round image icon at the top, then do not forget to choose Select a photo from your computer under Upload Photos. After you've done that, go on ahead and browse your computer for the required image and complete this section by hitting the Enter key on your keyboard. The final step after adding the picture is to click on Set as profile photo, and that's it.
Alternate options
1] Via Your Photos
Instead of using the Upload Photos section, you could go to Your Photos to find images that have already been uploaded to your Google account. This is probably the fastest way, but make sure the picture you need is located there.
2] Change your YouTube profile picture via Gmail
There is another way to change your profile image on YouTube if you so wish. If you're currently logged into your Gmail account, then there is no reason to leave.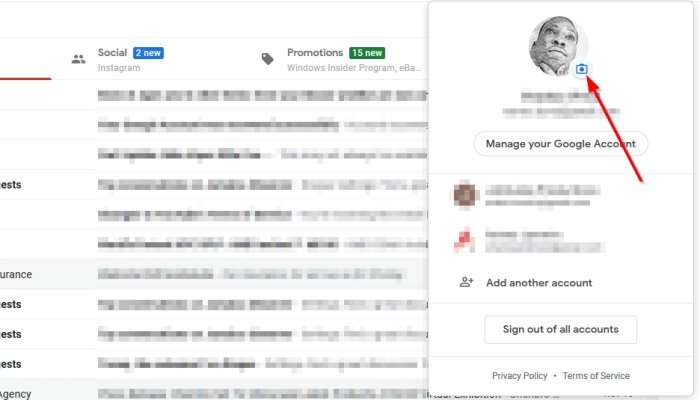 From within the Gmail tool on the web, we suggest clicking on your profile photo to begin changing your image.
Finally, you will want to click on the camera icon right away, then go on ahead and seek out the image for your profile picture.
You can choose either to upload the photo or take one already saved to the cloud.