If you are planning to arrange all the data in tables on a single page in Word, you can fall short of space. The best idea then is to rotate text inside the document. Rotating text ensures you have as narrow as possible rows in a table. See how to go about and change text direction in Microsoft Word.
Change Text Direction by rotating texts in Microsoft Word
In Microsoft Word, you can change text direction in Word from right to left. You can rotate text, change margins of text boxes and shapes for optimal spacing, or resize shapes for a better text fit by following these steps:
Launch Microsoft Word
Go to Insert tab
Create Text boxes
Select Text Direction
Changing the text direction
The texts in Word can be positioned horizontally or vertically and can appear on one line or wrap to multiple lines.
Create Textboxes
Open Word and go to 'Insert' tab.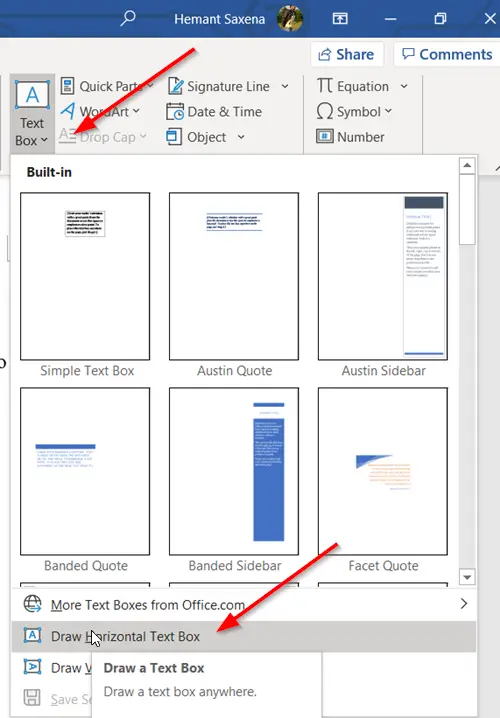 Under 'Text' section, press 'Text Box' drop-down arrow, select 'Draw Horizontal Text Box'.
Similarly include other text boxes in a horizontal orientation.
Here, when you cannot include more horizontal text boxes but still have some data left to be included, change the text direction of previous box in the following way.
Select Text Direction
Select the box containing the text you want to change direction.
Choose 'Layout' tab from the Ribbon menu.
Under 'Page Setup' section, go to 'Text Direction'. Press the down-arrow and select 'Rotate all text 90' under 'Text Direction Options'.
Change text direction

To position the box more accurately use the handle to rotate the box.
Now, you have created additional space to include text, you can insert one more box and include all the relevant data therein.
If required, you can also change the text alignment in the boxes. For instance, you can align the text to the center, to the left, to the right, to the bottom, or to the top. To do so, go to 'Arrange' section under 'Layout' tab, choose 'Position' > 'More Layout Options'.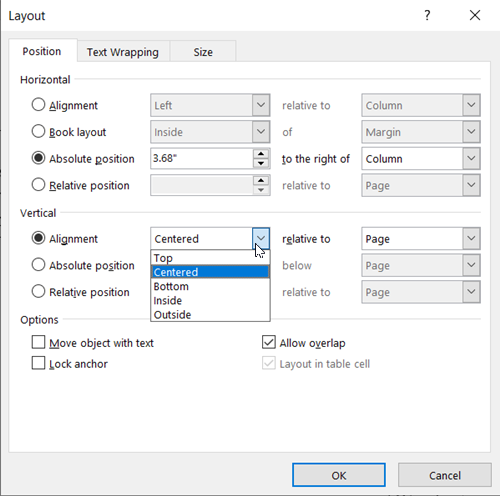 Then, under Vertical alignment click the down arrow and select Inside, Outside, center, bottom or the alignment you want to use.
I trust you can get this working smoothly.