You may dislike archaic or old-fashioned straight quotes. These quotes lack curves. On the other hand, there are more stylized, curved smart quotes that are preferred by most users. So, if you would like to change straight quotes to smart or curly apostrophe in an Office application like Word, PowerPoint or Excel, read on
Change Straight Quotes to Smart Quotes in Word
If you are not aware, straight quotes or apostrophe are the two generic vertical quotation marks located near the 'Enter' key of your PC keyboard: the straight single quote (') and the straight double quote (").
To change Straight Quotes to Smart Quotes in Office Word app, you'll need to take the following steps-
Open Office Word app
Access AutoCorrect Options box
Go to AutoFormat As You Type
There's an alternative to this. You can work around it by using a Find/Replace function. However, if you're an author and editor proofing 400+ page documents can be quite bothering and time-consuming.
1] Open an Office app
Launch a Microsoft Office application like Word, PowerPoint or Excel. For convenience purposes, I have used Microsoft Word as an example in this post.
2] Access AutoCorrect Options box
When opened, choose the 'File' tab in the top-left corner of the Word screen and choose 'Options' (located at the bottom of the list).
Next, in the 'Word Options' box that appears, click the 'Proofing' tab.
3] Go to 'AutoFormat As You Type' tab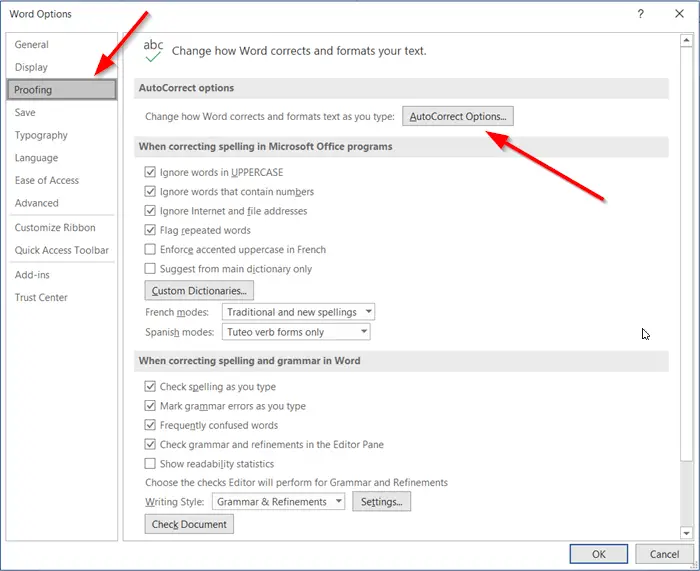 Then, under the AutoCorrect section, hit the 'AutoCorrect Options' tab.
Now, switch to 'AutoFormat As You Type' tab and look for the 'Replace' section.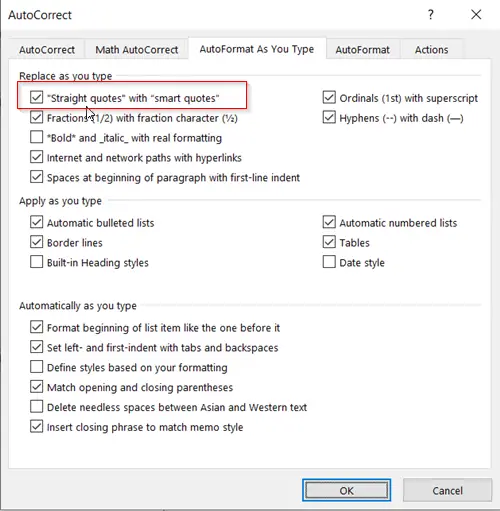 Check the box next to 'Straight quotes' with 'smart quotes'.
Likewise, to disable the option, simply un-check the box.
Click OK.
Hit the 'OK' button again on the Word Options box to save all changes.
This way you can change Straight Quotes to Smart Quotes in any Office app.
Read next: How to use Microsoft Word Picture editing Tools.