If you are already signed into your Microsoft or Google account, your browser will create an account. Now, even if you are not signed-in, when you launch a browser, it creates an account of sorts. It doesn't matter if you sign in with your Google account or Microsoft account; you will see an account-like icon on the top-right of the browser. These profiles are usually marked as Personal, and if you sign in, then it will pick the default image from your online account. In this post, I will share how you can change the Profile name and Image in Microsoft Edge, Chrome and Firefox browsers.
How to change the User name & Profile image in a browser
The profiles are like multiple-user accounts, which can be linked to an online account, or they can remain as plain profiles. Multiple profiles help you keep your work and personal profile separate. Your browser history, linked accounts, cookies, etc. are kept separate. All browsers allow you to rename it, and also add a picture or change the picture. It helps you to differentiate between them.
Microsoft Edge
Google Chrome
Mozilla Firefox
Generally, you need to click on the profile icon, and then click on Add a Profile or Plus Sign. Then you can choose to sign-in to the respective browser account, or you can use it without it.
1] Change Profile name and image on Microsoft Edge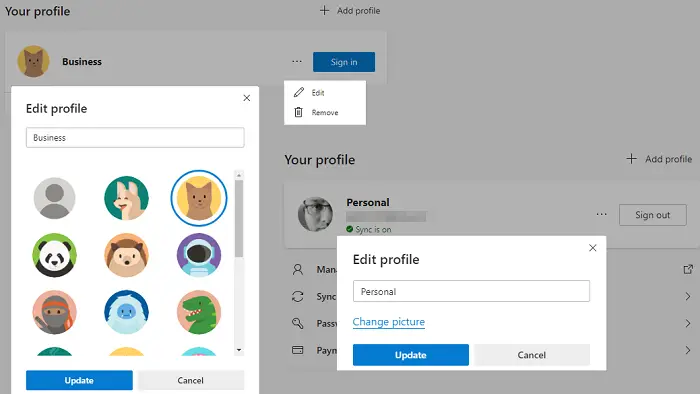 In a new tab, type edge://settings/profiles and press the Enter key
It will reveal the current profile. Click on the three-dot menu button, which is available next to the sign-out button.
Click on the Edit button on the fly-out menu
It will open a small pop-out menu where you can change the Profile name.
Click on Change Picture link, and choose an image of your choice.
If the profile is linked with a Microsoft account, it will open your Microsoft account and ask you to edit the picture, which is added to your account. If it is not linked, then you choose from the default image. There is no way to upload a picture of your choice to non-linked profiles.
Read: How to install a Browser without a Browser in Windows
2] Change Profile name and image on  Chrome
Go to chrome://settings/people in a new tab
Click on Chrome name and picture
Edit the name and select one of the images available.
3] Change Profile name and image on Firefox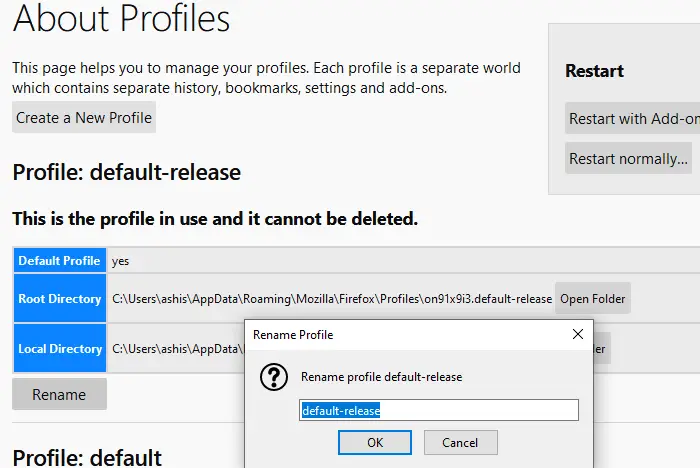 Firefox is a different beast here. Unlike Chrome and Edge, it doesn't let you use a picture, and editing profiles are not straight forward either. So here is how you can change the current profile name.
Go to about:profiles in a new tab. It will list all the existing profiles.
Click on the rename button at the end of the profile you want to rename.
Click the ok button, and you are done.
You can also launch the Profile Manager by executing the command "firefox -profilemanager" in the Run prompt. It will open a mini version that you can use to create, delete and manage profiles.
Now here is the deal. If you sign-in with the Mozilla account, you can change the display name, and Account picture both.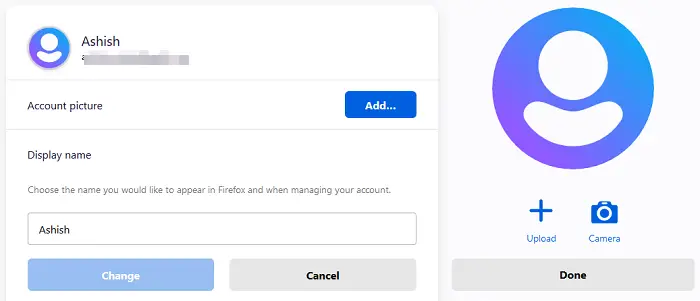 Click on the profile icon and sign-in with the Firefox account.
Once you are done doing that, click on the profile icon, and click on Account settings
Here you have the option for Account Picture and Display Name.
The best part, you can upload a picture or use a camera.
Once you change the name, it will supersede the email id associated with the account.
I hope the post was easy and you could change your Profile name and Image in Microsoft Edge, Chrome, and Firefox.
Firefox is way ahead when it comes to customizing profiles, while Google and Microsoft use profile images from the associated account. On the contrary, profile management in Firefox is basic if it is not connected to the Mozilla account.